To mothers, having children is life's most precious gift. Although a miracle of life, bearing children often wreaks havoc on a woman's body. Sagging and lifeless breasts, loose muscles and excess skin in the abdomen, and stubborn baby fat are common traits many women are left with following childbirth. Women find that these transformations to the body are often irreversible, even with diet and exercise. Many women decide to help themselves feel confident again through Mummy Makeover procedures designed to restore their pre-pregnancy bodies.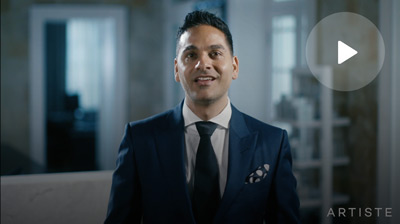 Learn about the types procedures that contribute to a Makeover Surgery by Dr Jack Zoumaras.
Plastic surgery of the breasts, midsection, and lower body can help you regain the pre-pregnancy body you deserve. Dr Zoumaras offers a variety of Mummy Makeover procedures to help you achieve results that are tailored to your anatomy and goals. Liposuction is commonly performed with every Mummy Makeover to further sculpt the body. The addition of upper back, arm, thigh, buttock, and vaginal contouring can be made to each Mummy Makeover procedure.
Through an incision under the breast an implant will be placed to augment the contour, shape and projection of the breast. The options available include shape of implant, location of implant (under, above muscle or dual plane) and projection of implant. See more Breast Augmentation
A lift may also be performed to change the position of the nipple and significantly elevate the breast mound to a more youthful position.
Breast Reduction/Mastopexy
The breast tissue and nipple are lifted up to restore the youthful projection breast and nipple. This is achieved through a series of minimal incisions to keep scarring on the breast to a minimum and the breast may also be reduced in size if it is too large. See more Mastopexy and Breast Reduction.
Through a concealed incision made in your brief line the abdominal skin and fat is undermined and excess skin and fat (apron) removed permanently. The underlying muscle layer is also repaired and or tightened to restore the abdominal wall integrity. The end result is a youthful silhouette. See more Abdominoplasty.
All mummy makeover patients receive liposuction of the abdominal wall, flanks (love handles), inner and outer thighs, upper arms and axilla. This helps to transform the body back. See more liposuction.
Fat Transfer/Buttock Lift
The fat aspirated from liposuction can be prepared and injected to augment the buttocks as part of the mummy makeover. See Brazilian Butt Lift
The inner labia can be contoured to create a harmonious perineal area as part of the mummy makeover package. See labiaplasty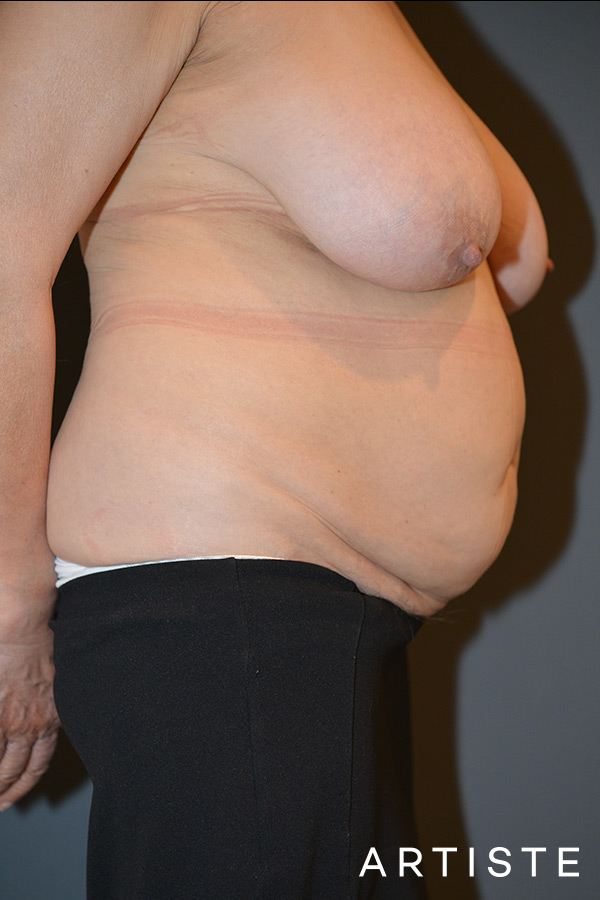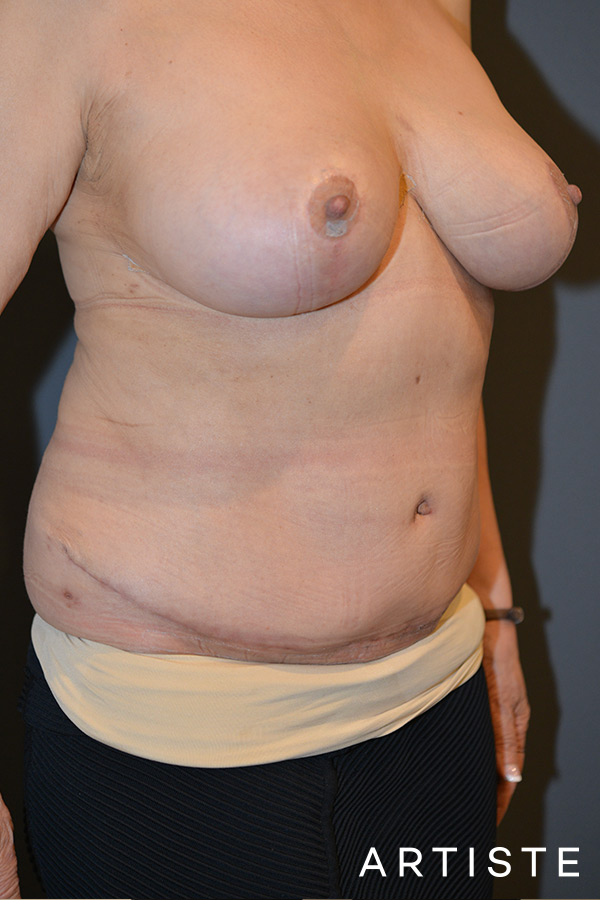 67 Year Old Abdominoplasty + Breast Lift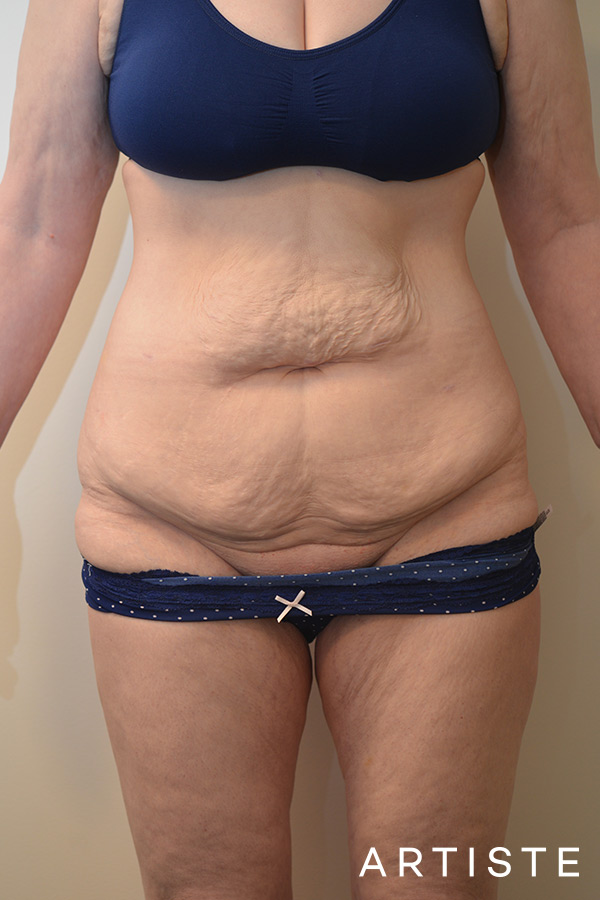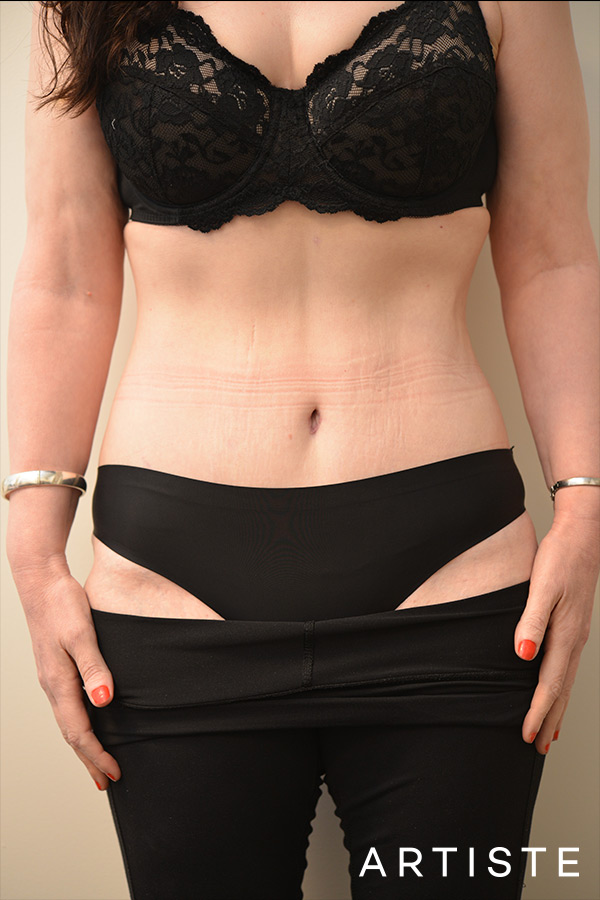 45 Year Old Abdominoplasty + Liposuction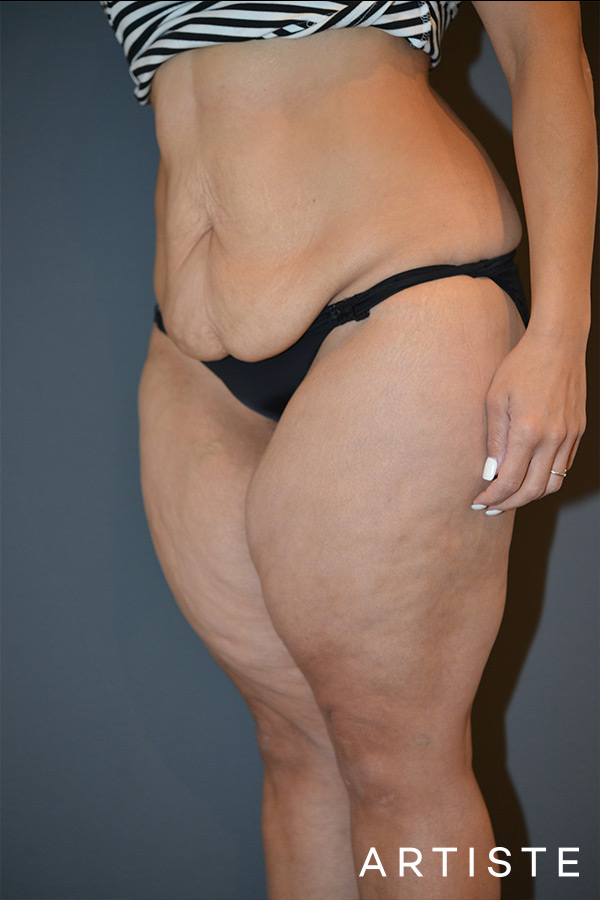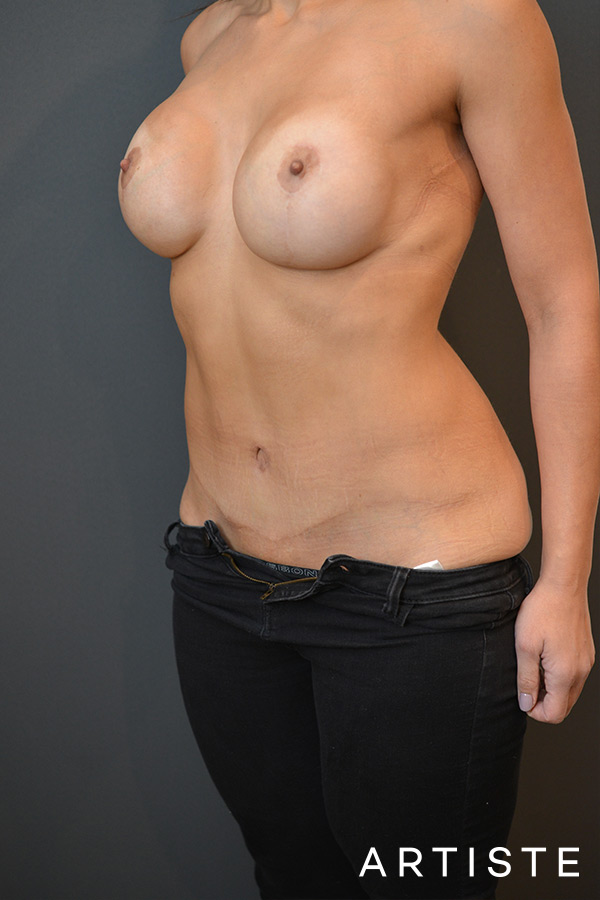 37 Year Old Abdominoplasty + Liposuction and Breast Augmentation
Confident in the body that you deserve, reclaim your breasts and body, feel great in your own skin.
Artiste Mummy Makeover Menu
Plastic surgery of the abdomen, body and breasts to give you your pre-pregnancy/ideal body that you deserve… "The art of enhancing beauty"
Breast Augmentation and Tummy Tuck
Bilateral breast augmentation with breast implants to give volume, fullness and shape to the breasts
Abdominoplasty-repositioning of internal muscle, fat and skin removal
Liposuction of flanks, outer thighs and mons pubis
---
Operative Time: 5-6 Hours
Recovery: 2-3 nights in hospital
Augmentation Mastopexy and Tummy Tuck​
Breast lift or reduction and Tummy Tuck
Breast Augmentation, Brazilian Butt lift and Tummy Tuck
Breast Augmentation, Thigh lift and Tummy Tuck
What Can the Mummy Makeover Do?
Restore the Breasts
Pregnancy and breastfeeding completely transform the breasts. As the body accommodates for a developing baby, the breast skin begins to stretch and loses elasticity. After breastfeeding, loss of breast volume is a common issue with many women. The breasts are considered a symbol of a woman's femininity, and having full and voluminous breasts is important to many. One or more breast surgery techniques can be combined to restore the breasts to look more youthful and attractive on the female body.
Flatten and Accentuate the Abdominal Contours
Get Rid of Excess Baby Weight
Contour the Thighs, Legs, Arms, and Back
Buttock Lift (Brazilian Butt Lift)
Vaginal Rejuvenation