The shape of a neck in a young Female and  strong jaw line in a Male cannot be underestimated. For centuries sculpters and painters have depicted beauty with these features. The first signs of ageing in some people distort this contour. A Neck Lift is the solution for a "turkey neck" or neck with loose skin, wrinkles and platysma bands that cause the neck to lose shape. At Artiste Plastic Surgery patients have sought a Neck Lift to restore the transition from Face to Neck. This results in a more defined neck line  from every angle.
Technically A Neck Lift is a plastic surgery procedure that may be performed alone but is often part of a Facelift procedure with an additional small incision under the chin. The neck muscles, glands and fat are repositioned through this access incision to produce a neck line.
At Artiste Plastic Surgery a neck lift is performed for the following reasons:
As part of a facelift procedure
To re shape the neck
To form a acute cervico-mental angle (Chin and Neck relationship)
To address active Platysma bands
To create a more defined neck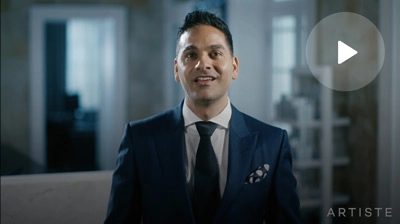 Learn about the types of facelift procedures Dr Jack Zoumaras offers and why patients commonly consider a neck lift.
NECK LIFT SURGERY PROCEDURES:​
In few cases a patient may seek only a neck lift to address:
Cervical skin laxity
Fat deposits in the neck region
This can be achieved with liposuction alone with the addition of a sub-mental and/or short post-auricular incision to address excess cervical laxity.
Neck Lift as Part of a Facelift
A sub-mental incision (in addition to the facelift incision) is used to access the neck structures. The following can be performed depending on anatomy and age changes:
Removal of fat (Supra-platysma, Sub-platysma)
Trimming of Digastric muscles
Trimming of Submandibular gland
Platsymaplasty (suturing of muscle together)
Platsyma-myotomy (incising of the muscle to rid of active bands)
Removal of excess skin through the facelift incision
*Level V Evidence: How you will feel after plastic surgery varies between individuals depending on psychological and physical factors, our internal research is based on how patients in our practice feel after surgery. This research is pending publication-details to follow.


Neck Lift and Mini Lift Packages
To understand how best to lift the face, one must have a deep and thorough understanding of the anatomy of ageing. This ensures that your
Neck Lift results will not be "plastic", but natural, and well defined.
World-trained Face and Neck lift surgeon, Dr Jack Zoumaras, is a peer reviewed Plastic Surgeon, and knows how to respect your anatomy to meet your neck goals.

The Face/Neck consists of 5 concentric layers that differ in consistency in different parts of the face.
Layer 1 is Skin which is thickest around the cheek and nose, and thinnest on the eyelids and temple.
Layer 2 is Fat which is prominent around the cheeks and negligible in the eyelids (the fatty "bags" that we see under the eyelids comes from a deeper layer (deeper even than Layer 5).
Layer 3 is the Superficial Musculoaponeurotic System (SMAS), a muscle layer that allows us to be humans, it is responsible for allowing us to talk, smile, whistle, sing, open and close our eyes, and for all facial animations. The SMAS in the neck of the platysma layer.
Layer 4 is a space that contains Ligaments, Facial nerves and Vessels. The ligament holds the upper three layers and rests on Layer 5. The ligament is at its thickest in Layer 4 and branches into the dermis of the skin, akin to fine branches of a tree.
Layer 5 is bone where the ligament holding up the facial anatomy resides on (Cheek and Jaw bones). In the cheek and neck there is no bone and it is deep fascia that is representative of layer 5. Layer 5 in the neck is the deep cervical fascia.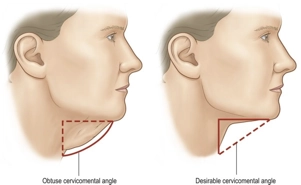 As the Neck ages it undergoes changes in all 5 layers. The overlying skin (Layer 1) can loosen causing wrinkles. Some patients deposit more fat (Layer 2) in their necks, that results in a double chin or "turkey neck". In Layer 3, the muscle loosens and the ligament (Layer 4) that holds the structures above, also weakens. This results in the skin falling and muscle becoming a loose structure much like an oversize sheet on a bed that has no structure. This results in the lack of a defined neck-line, and no sharpness to the neck profile. The ligament that sits on the mandible, falls as part of facial ageing, and this not only results in jowling, but the facial skin further pushes the neck skin down. In some patients the muscle in the neck can undergo banding that results in the neck appearing as if there are strings when you are talking.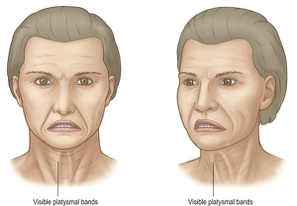 A Neck Lift by Dr Jack Zoumaras at Artiste Plastic Surgery will reverse the changes due to ageing in Layers 1 – 5, to ensure that you have a sharpened and defined neck profile that looks amazingly natural, and not fake. Having a unique and technical understanding of the anatomy of the ageing process, takes years of training and experience, and it is this, combined with Surgical Finesse, that enables Dr Jack Zoumaras to ensure that your Neck lift gives you the best possible results.


Some of our patients have never had a strong jawline, even in their youth, and this is an anatomical genetic variant of having a weaker jaw bone. This can be addressed during a Neck Lift through the use of Structural fat grafting along the jaw line or use of a chin implant.
A Neck Lift is performed by making an incision behind the ear and along the posterior hairline and combining this with a small incision under the chin.
The chin incision allows access to the front of the neck to trim glands, tighten muscle and remove fat if necessary. The excess skin is excised through the ear incisions laterally along with the muscle to restore a more defined neck region .

The procedure will be illustrated in detail and you will be given a detailed instruction sheet on expected post-operative course and potential complications during your consultation with Dr Jack Zoumaras.
It is recommended that you are a stable weight for at least 3-6 months to obtain the best possible results.
It is advised to stop smoking at least 6 weeks before and after surgery.
Results vary and are illustrated as a guide only. Any surgical or invasive procedure carries risks. These risks will be discussed with you in detail. A second opinion is beneficial and advised.