If you want to look less tired, remove wrinkles then a Facelift is the solution. A Facelift will make you appear a younger age but many of our patients at Artiste Plastic Surgery just want to look less tired and more positive about their unique image.
A Facelift is a Plastic Surgery procedure that lifts the facial skin, removes excess wrinkles and repositions the deep layers of the face to a higher position, through a carefully planned incision around the ear and in the hairline. A Neck lift is often included with a facelift to address the contour and aesthetic appearance of the neck. The result is a lifted Face and Neck. Risks are present and these will be discussed during your consultation.
The face is unique and conveys the way we look and express ourselves as individuals. As we age, our faces undergo changes that can result in wrinkles, volume loss, and a sagging facial appearance. A facelift can correct these age-related changes, restoring the face. Dr Zoumaras' technique of High SMAS Face and Neck lift or Deep Plane Facelift executed with experience and skill ensures a dramatic and natural result.
Dr Zoumaras dedicates a day's operating on the face with a facelift and neck lift (that is deep to the muscle and deep plane). This attention to detail and care ensures the best possible result that will meet your goals.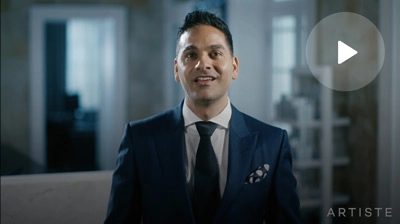 Learn about the types of facelift procedures Dr Jack Zoumaras offers and why patients commonly consider a facelift.
Lift and Tone Sagging Skin
As we age, the collagen in our skin begins to break down, causing our facial tissues to become weak. Eventually, gravity pulls on the tissues and causes them to droop. Excess, sagging facial skin usually occurs below the cheeks and along the jowls. A facelift will lift and tighten your sagging skin, restoring tone and your goals for your appearance.
Smooth and Improve Wrinkles
Wrinkles develop in areas of the face that experience the most movement. Typically, this is around the eyes and mouth. Trimming away excess skin and tightening the remaining tissue helps smooth and improve the appearance of wrinkles, targeting both the eyes and mouth. Dr Zoumaras' technique also ensures natural blending of the skin along the cheeks and around the eyes.
Restore Volume and Eliminate Jowls
As fat and skin become displaced, fatty jowls can develop and your cheeks can appear sunken. Fat is repositioned in the cheeks and along the jawline to improve facial contours and restore lost volume. Replacing fat along the cheeks can improve your appearance. Targeting fatty jowls improves the neck and creates better definition at the jawline.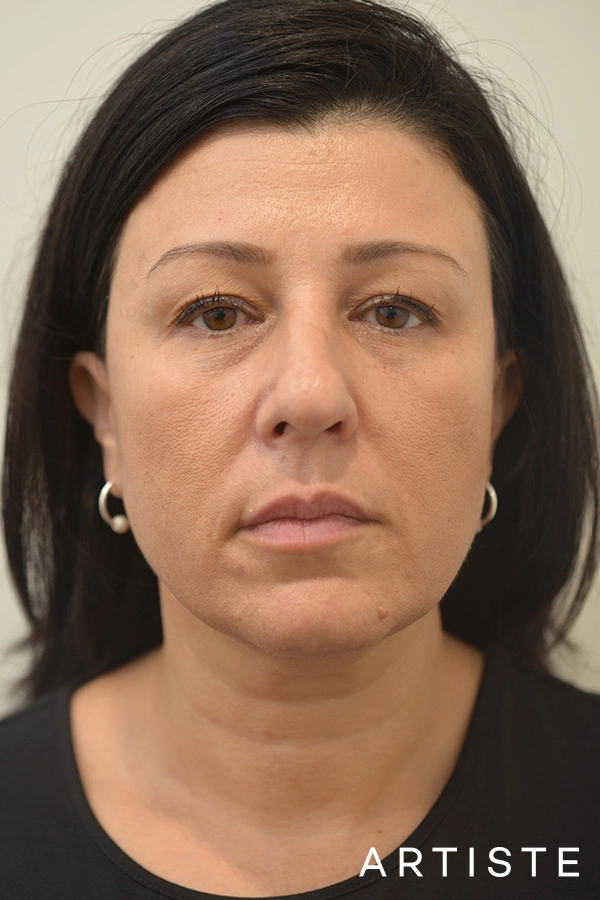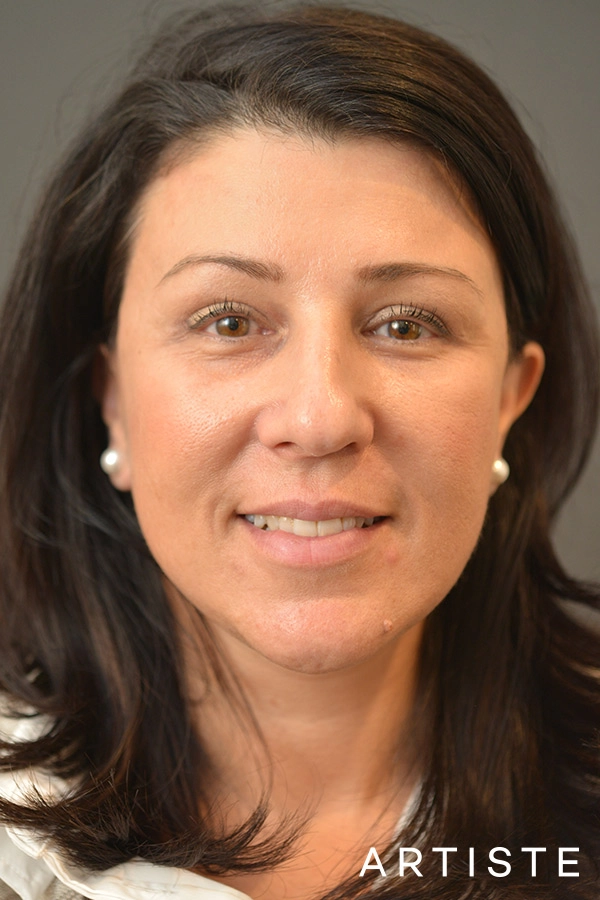 49 Year Old Short Scar Facelift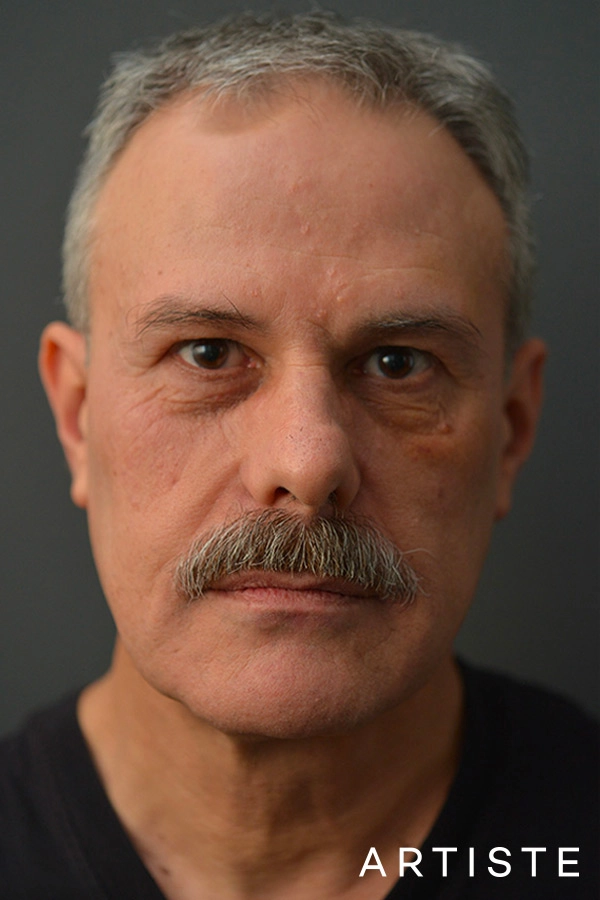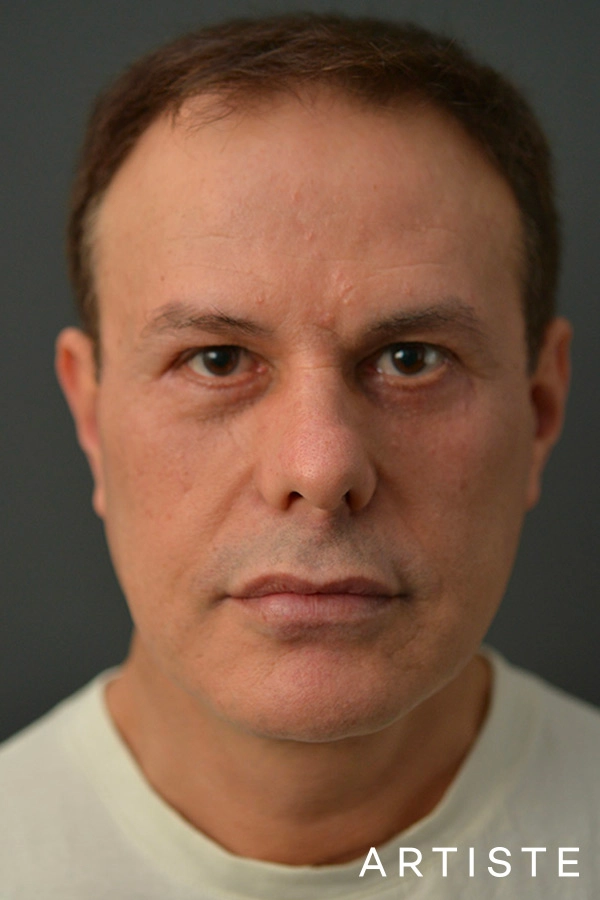 53 Year Old Ultimate High SMAS Facelift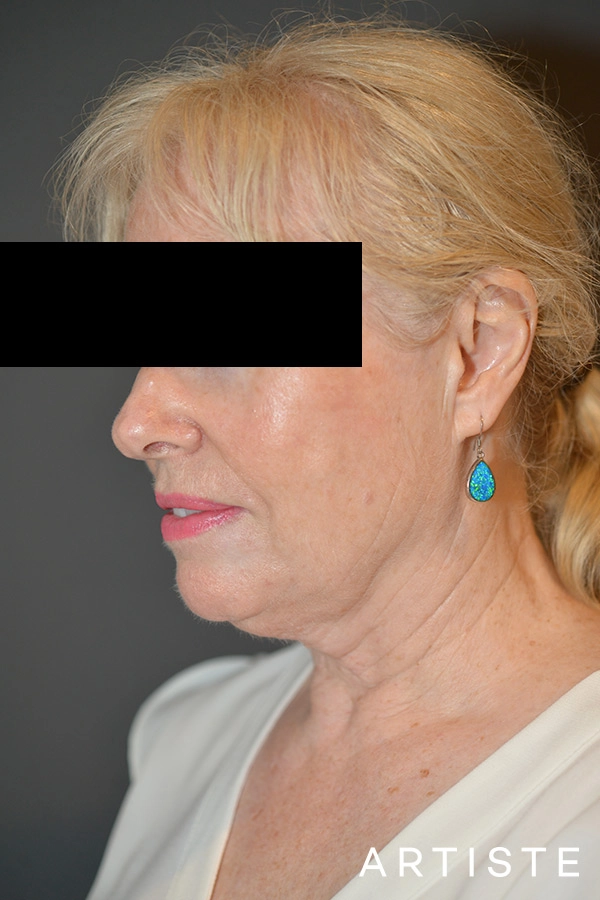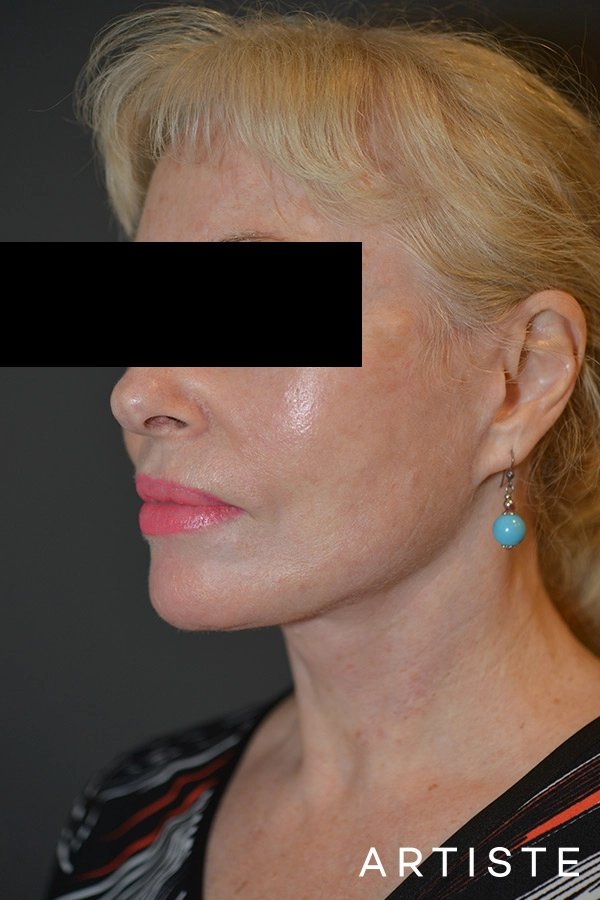 64 Year Old Ultimate Facelift and Neck Lift
*Level V Evidence: How you will feel after plastic surgery varies between individuals depending on psychological and physical factors, our internal research is based on how patients in our practice feel after surgery. This research is pending publication-details to follow.
Dr Zoumaras' preferred facelift technique is the High SMAS Face and Neck Lift and the Deep Plane Facelift when a Neck Lift is not required. A Short Scar Facelift in the younger patient with mild facial aging changes and wrinkles can be performed if suitable. In some circumstances a Pony Tail lift or Mid Facelift is the right solution. Let Facelift Plastic Surgeon Dr Jack Zoumaras assess your face and decide on the best possible Facelift technique for your face and get you looking they way you want.
Full Facelift Incision
Short-Scar Facelift Incision
Typical Design, Lifting (A) and Inset (B) of a High SMAS Flap
Submental Incision
Re-draping of Facial Skin Allowing Removal of Excess Skin
Re-draping of Neck Skin
Full Facelift Incision
The scar may follow or begin within the anterior temporal hairline, follow the ear and lobule, and continue behind the ear into the occipital hairline. This gives access to the entire face, eyelid, cheek, lower face, and neck.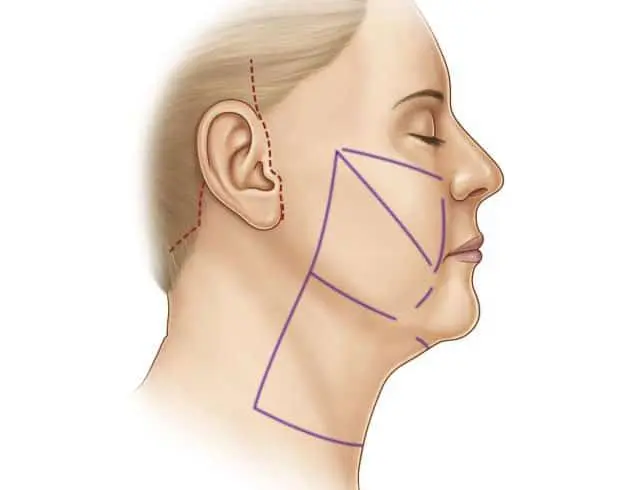 Short-Scar Facelift Incision
Typical Design, Lifting (A) and Inset (B) of a High SMAS Flap
Submental Incision
Re-draping of Facial Skin Allowing Removal of Excess Skin
Re-draping of Neck Skin
To understand how best to lift the face, one must have a deep and thorough understanding of Facial Anatomy, and the anatomy of facial ageing. This ensures that your facelift result will not be "plastic", but lifted, natural, and goal orientated. World-Trained Facelift Surgeon, Dr Jack Zoumaras, is a peer reviewed Plastic Surgeon, and knows how to respect your anatomy to lift your face.
The Face consists of 5 concentric layers that differ in consistency in different parts of the face.
Layer 1 is Skin which is thickest around the cheek and nose, and thinnest on the eyelids and temple.
Layer 2 is Fat which is prominent around the cheeks and negligible in the eyelids (the fatty "bags" that we see under the eyelids comes from a deeper layer (deeper even than Layer 5).
Layer 3 is the Superficial Musculoaponeurotic System (SMAS), a muscle layer that allows us to be humans, it is responsible for allowing us to talk, smile, whistle, sing, open and close our eyes, and for all facial animations.
Layer 4 is a space that contains Ligaments, Facial nerves and Vessels. The ligament holds the upper three layers and rests on Layer 5. The ligament is at its thickest in Layer 4 and branches into the dermis of the skin, akin to fine branches of a tree.
Layer 5 is bone where the ligament holding up the facial anatomy resides on (Cheek and Jaw bones). In the cheek and neck there is no bone and it is deep fascia that is representative of layer 5.

Each of us, as individuals age at different rates, and this fact also pertains to our facial layers. Some layers display earlier signs of skin laxity and wrinkles (Layer 1). Others show more structural ageing (heavy jowls and naso labial folds – Layer 3). Other patients have hollowing around the eye which is a combination of Layer 2 and 3 ageing.
During the ageing process, our ligaments (Layer 4) weaken due to wear and tear. The underlying bone (Layer 5) shrinks 1 mm every 7 years from age 35 and this results in the upper facial layers falling down. This combined with repetitive movements, sun damage, smoking, environmental factors and genetics, results in loose skin, shadows and jowls (Layers 1-3). The ageing of Layers 1-5 results in eyelid/cheek junction hollowing, fat bags, loss of facial volume, naso labial folds, jowls and loose skin in the neck.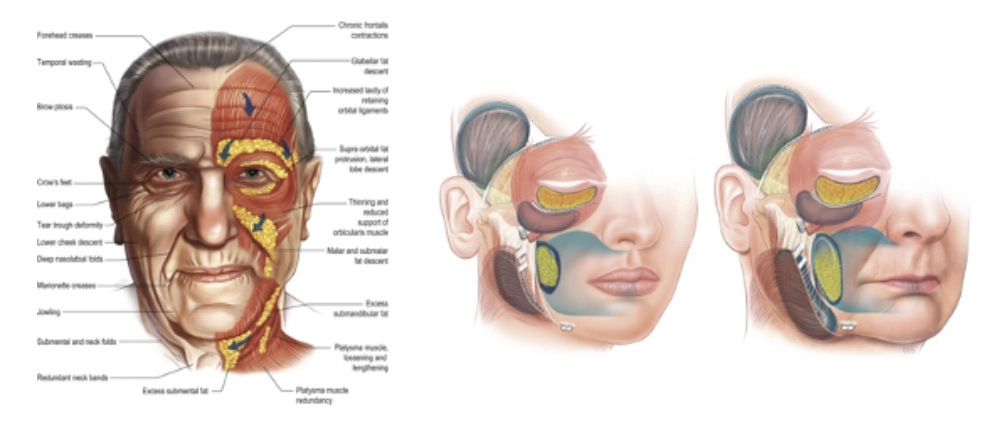 A Facelift is the only procedure that will reverse the anatomical changes of ageing, by offering a unique solution to layers 1-5.
As demonstrated below, the excess skin and fat (Layers 1 and 2) are lifted to access the deeper structures (Layer 3-5).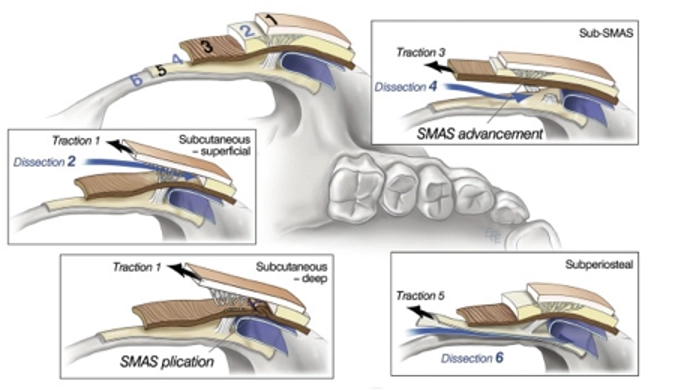 What does this mean for you?
During a Facelift, irrespective of the option you chose, all the anatomical changes that occur during ageing will be reversed.
A facelift will lift the jowls, smooth your skin, lift the cheek, lift your eyelids and address the hollowing, and sharpen your neck line. All of this will result in reversing the "Tired" look, you will look rejuvenated, fresher, and feel empowered with confidence.
A Facelift involves an incision in front of the ear, behind the tragus and along the temporal hairline. The incision may extend behind the ear, depending on the type of facelift, and under the chin when combined with a Neck Lift. This allows access to the underlying muscle, ligaments and skin.
Why Dr Jack Zoumaras Artiste Face Lift Technique is Different
Eliminating Facelift Scars
Dr. Jack Zoumaras places incisions along the shadows of the ear and behind the tragus to ensure that the incision will not be visible. The Facelift incision then extends along the temple hairline. This incision is placed at 45 degrees to the direction of the hair follicle to ensure hair grows through the incision, and you can never tell where it is. This is how Dr Jack Zoumaras achieves minimal scarring that is minimally visible.
The Results are Long Lasting
Dr Jack Zoumaras focus and dedication to Plastic Surgery of the Face is second to none. Dr Jack Zoumaras never retracts the skin whilst operating, instead he carefully instructs and directs his assistants to gently retract the skin with specific instruments (this way he can still control both aspects of skin and muscle without compromising either). This care and finesse ensures the facial skin and underlying structures are handled with the best care and will remain healthy and undamaged. This keeps your skin healthy, vascularised for longer and your results will last the test of time.
No "windblown" or "pulled" Look
Dr Jack Zoumaras Facelift techniques are unique, he takes into consideration the anatomy of the ageing process and combines this with surgical skill, finesse and Facelift experience. All our Facelifts from the High SMAS Facelift to the Ponytail Technique do not pull or stretch the facial skin in a horizontal position. Rather the skin is redraped in a natural vertical direction to mimic our natural smile, vertically, in order to reverse the downward pull of gravity on your face and avoiding a "windswept" or "pulled" look.
No permanently "surprised looks" or unnatural contours when you smile with a Facelift at Artiste. Dr Jack Zoumaras restores anatomy to where it once was and even when glamorising the face, does so with sound principles, techniques and finesse in place, to ensure you look rejuvenated and amazing and not fake or surprised.
No Disturbing Your Hairline
The Facelift procedure is minimally invasive and will not distort the natural anatomy of your ear or affect your hairline at all. This is because the incision is carefully placed along the hairline beveled at 45 degrees to ensure hair grows through the scar ensuring you will not see the incision and the hair line will not be disturbed.
The ear lobe is not distorted which is a common facelift risk. This is because often the pull of the skin pulls the ear lobe down and distorts its shape, the same thing can happen with the contours of the ear and tragus. Dr Jack Zoumaras never puts too much tension on the skin; all the work is done in layers 2-5 and the skin is redraped as a covering. This ensures that the tragus and ear lobe are not altered and look natural.
Dr. Jack Zoumaras chooses to shape and sculpt each Facelift patient's face with finesse. All the internal layers are where the focus is, and the skin is re-draped naturally. This results in positioning your tissue to a position they once were instead of pulling and tightening your skin.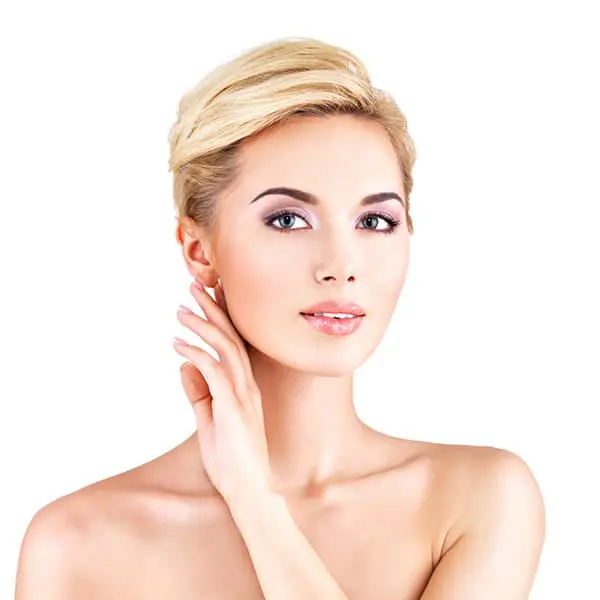 Deep Plane Face and Neck Lift, Eyes and Brow Lift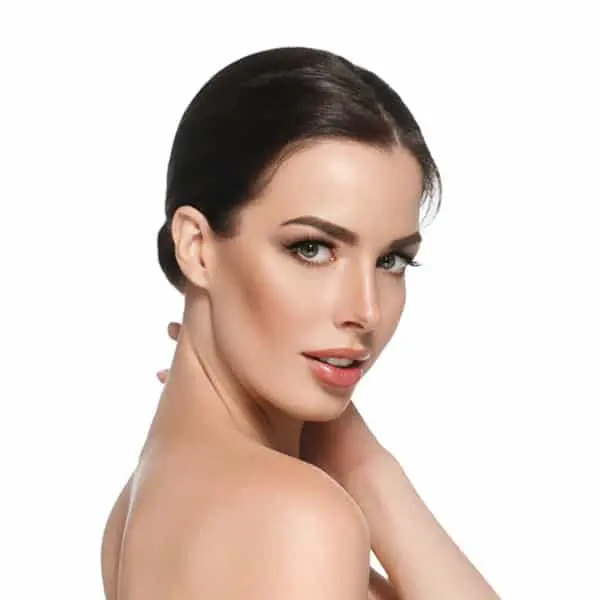 Deep Plane Face and Neck Lift


Neck Lift and Mini Lift Packages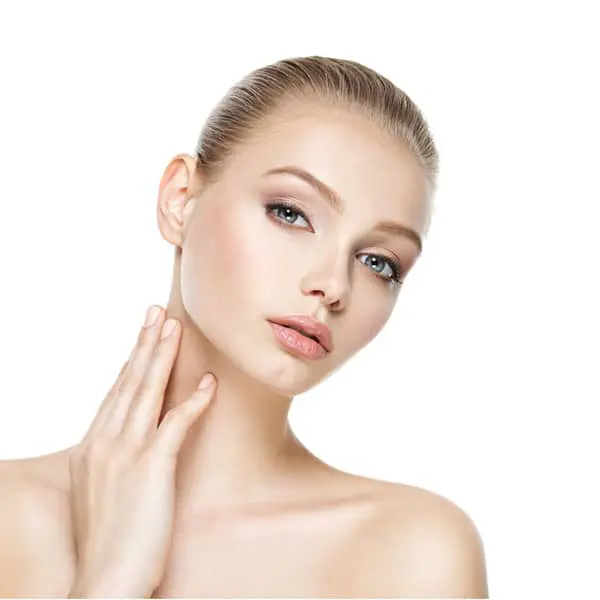 Artiste Ultimate Neck Lift
Artiste Signature Necklift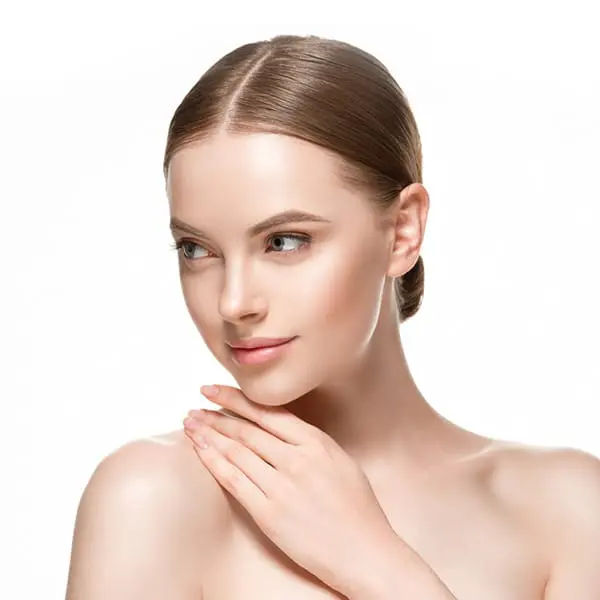 Artiste Express Mini Lift