High SMAS Face and Neck Lift
A High SMAS Face and Neck Lift is exclusively offered by Dr Jack Zoumaras in Sydney. Trained and inspired by Dr Timothy Marten in San Francisco a High SMAS Face and Neck Lift is the ultimate rejuvenating Facelift.
Few Surgeons in Australia offer this technique and if you are ready to invest in looking your best a High SMAS Face and Neck Lift will transform your face and release your inner confidence.
A High SMAS Facelift will lift the lower eyelid, cheek, nasolabial folds, mid face, jowl and neck.It is best for lower eyelid hollowing, deep naso labial folds, jowls, and neck laxity or a double chin.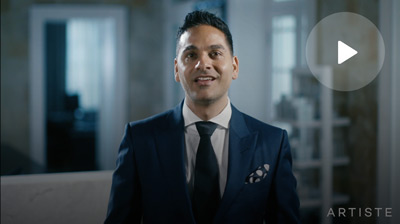 Learn about the types of facelift procedures Dr Jack Zoumaras offers and why patients commonly consider a facelift.
A good modern facelift, lifts the deep layer of the face (layer 3-see below) to reposition the cheeks, mid face and jowls. A High SMAS Facelift goes further by lifting the deep layer of the face (SMAS) at its highest possible position in line with the orbital rim and all the way down to include the neck laterally and centrally. This flap lifts the entire face and neck for the ultimate result.
Traditional Smas facelifts lift the SMAS below the cheek bone. A High SMAS Facelift designs the flap in line with the orbital rim high on the cheek bone. You can see in the diagrams re-printed with permission from Dr Marten that the High SMAS Vector design is high and therefore lifts the lower eyelid and mid cheek.
A High SMAS Facelift is more powerful than traditional SMAS techniques because it lifts the entire face from the lower eye and the neck in one powerful flap.
Why Dr Zoumaras technique is best
Dr Jack Zoumaras is 2017 and 2019 Vogue Face Expert and his practice is only Face. He has been trained by world leaders from San Francisco, New York and Paris. Training with the best to become one of the best. He is current chairman of the Australian Society of Plastic Surgeons NSW Chapter and a specialist Plastic surgeon. He is one of few plastic surgeons to offer a High SMAS Facelift and Deep Plane Facelift.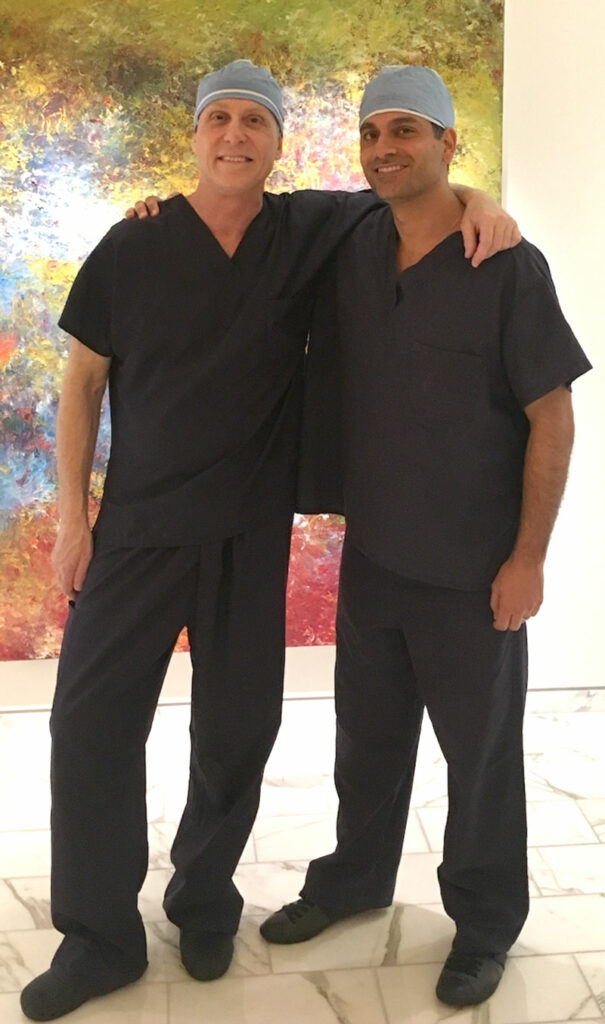 Dr Jack Zoumaras with Dr Timothy Marten in San Francisco.
To understand how best to lift the face, one must have a deep and thorough understanding of Facial Anatomy, and the anatomy of facial ageing. This ensures that your facelift result will not be "plastic", but rejuvenating, natural, and amazing. Facelift expert, Dr Jack Zoumaras, is a peer reviewed Plastic Surgeon, and knows how to respect your anatomy to transform your face.
The Face consists of 5 concentric layers that differ in consistency in different parts of the face.
Layer 1 is Skin which is thickest around the cheek and nose, and thinnest on the eyelids and temple.
Layer 2 is Fat which is prominent around the cheeks and negligible in the eyelids (the fatty "bags" that we see under the eyelids comes from a deeper layer (deeper even than Layer 5).
Layer 3 is the Superficial Musculoaponeurotic System (SMAS), a muscle layer that allows us to be humans, it is responsible for allowing us to talk, smile, whistle, sing, open and close our eyes, and for all facial animations.
Layer 4 is a space that contains Ligaments, Facial nerves and Vessels. The ligament holds the upper three layers and rests on Layer 5. The ligament is at its thickest in Layer 4 and branches into the dermis of the skin, akin to fine branches of a tree.
Layer 5 is bone where the ligament holding up the facial anatomy resides on (Cheek and Jaw bones). In the cheek and neck there is no bone and it is deep fascia that is representative of layer 5.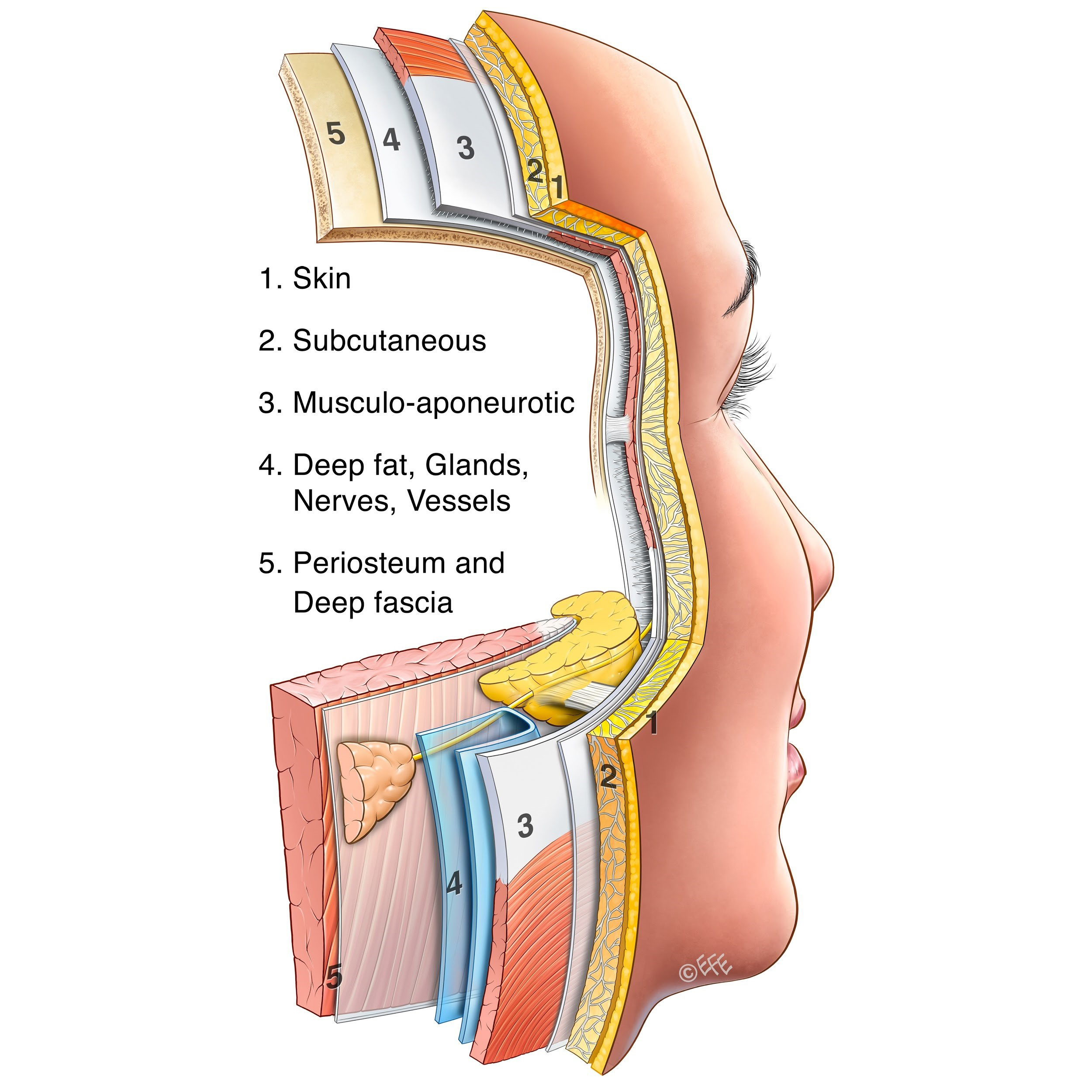 An Ageing face causes skin laxity(1), loss of facial volume (2), loss of muscle tone and descent of muscle (3), attenuation of the ligament (4) which compounds the ageing change in the top three layers. The structure of the face (5) also loses thickness. These changes cause lower eyelid hollowing, deep naso-labial folds, marionette lines and jowling.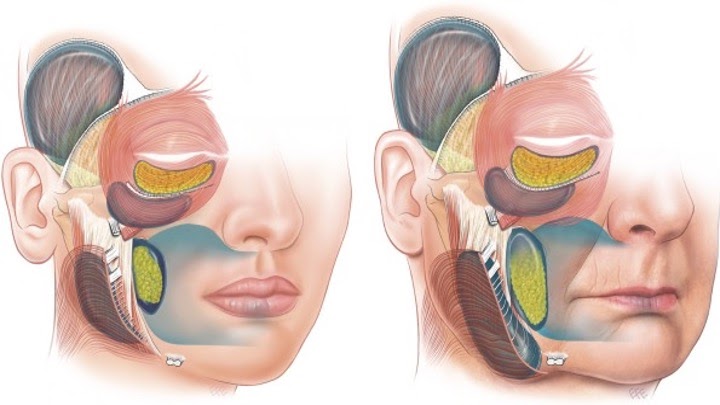 A High SMAS Face and Neck Lift lifts layers 1-2 in a single flap. The SMAS layer (3) is then designed High and lifted deep to the muscle, like a deep plane, from the lower eyelid to the neck. This will correct the jowls, nasolabial folds and eyelid hollowing and lift the neck.
You will feel confident, youthful and excited.
Confident, fresher, younger and less tired and feel great!
You will not look fake, just rejuvenated.