Vivace is state-of-the-art new technology that combines Radio-Frequency with Micro-needling. The results will change the Plastic Surgery space and the non-surgical facial rejuvenation market.
Artiste Plastic Surgery in Sydney is home to the brand new technology "Vivace" which combines Radio-Frequency and Micro-Needling to rejuvenate the face, improve acne and minimise scarring and bruising.
This treatment is a non-surgical lunch time procedure that takes approximately one hour. Down time is near zero and you can return to work the same day. The immediate effects are a blushed face, and over the next few days your skin will look and feel fresh with a beautiful luminosity.
Vivace works by heating the skins deep cells with radio frequency, and physically needling the cells, causing a controlled trauma. This results in the skin undergoing a mild inflammatory reaction that increases blood supply, growth factors and longer term, new collagen formation. The instant results include an instant glow and shiny skin. In the longer term, the skin tone improves and facial wrinkles begin to disappear.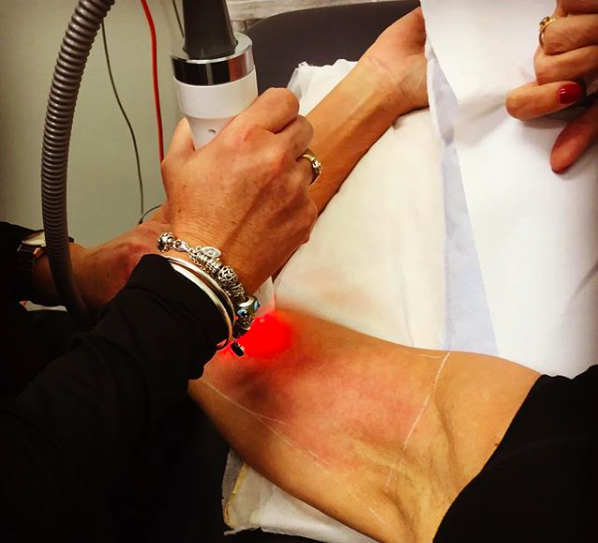 The process begins by cleansing your skin and applying Local Anaesthetic numbing gel for 25 minutes. The therapist then uses the device to deliver radio frequency micro-needling to your face and/or neck regions. Some bleeding from the micro pin points may occur but this is minimal. The procedure is not painful and you can return to work or social activities instantly.
This technique is more advanced and effective than existing Needling techniques such as dermapen, dermaroller and simple needling. The reasons is that the needling is fractionated, deeper and combined with radio frequency.
Vivace can be used in all ages groups and specifically improves tired looking skin, wrinkles on the face, wrinkles around the eye, scarring, pigmentation and other blemishes. A specific hand piece and depth can also be used for Acne scars which gives people another option for the treatment of Acne Vulgaris scarring.
VIVACE AT ARTISTE PLASTIC SURGERY
Vivace is a safe and gentle microneedling system, that uses the latest technology for enhanced contouring and tightening of the skin on the face, neck, hands and body. A combination of radio frequency and microneedling ensures that superior results are achieved for skin care patients, with minimal discomfort. Enjoy younger looking skin and improve acne, scarring and pigmentation with a non-invasive procedure that can be completed in your lunch hour.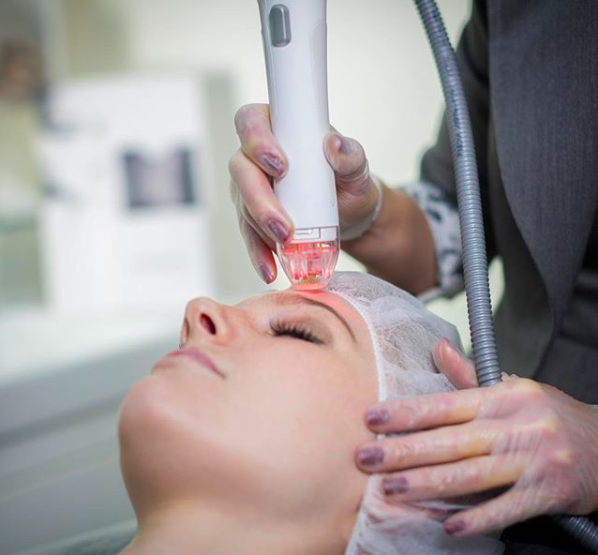 Conditions That Can Be Treated with Vivace RF Microneedling
Vivace is a revolutionary treatment for skin tightening. The conditions that Vivace can treat include the following:
Tired looking skin
Sagging skin
Lines and wrinkles
Scarring
Stretch marks
Pigmentation
Blemishes
Scars from acne
Sun-damaged skin
Enlarged pores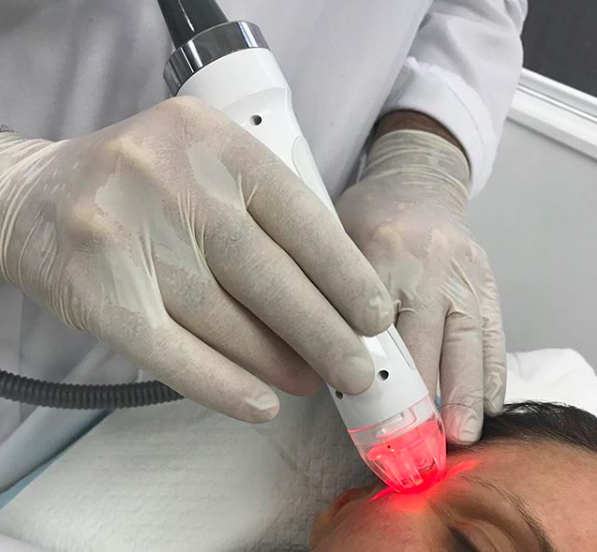 Treatment is virtually pain-free. Most patients find it a gentle and positive experience. Your face may be flushed immediately afterwards, but over the next few days, this will fade to reveal a fresh and beautiful glow. You can return to work or normal life straight after your treatment.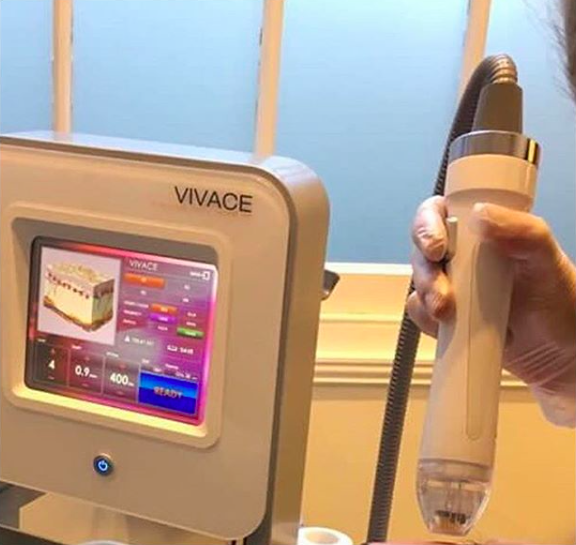 To begin with, the nurse will cleanse your skin and apply a local anaesthetic numbing gel/cream. Vivace uses a 70-watt patterned radio frequency to heat your skin's cells that are located deep beneath the epidermis. All you need to do is sit back and relax.
Then, 36 insulated gold-tipped microneedles are driven by a robotic micro-motor at a pulse and depth determined by the nurse. Vivace has 31 multilevel adjustments and pulse durations, ranging from 100ms to 800ms, enabling a level of precision, unheard of in similar devices.
When the treatment is finished, a soothing topical solution or serum can be applied to encourage faster healing. You will notice a glow and shiny skin. In time, your skin tone will improve and wrinkles will begin to fade or disappear.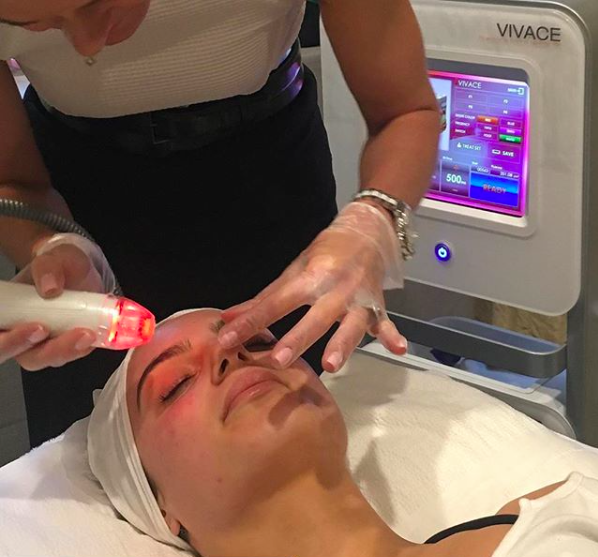 The nurse can use red or blue LEDs during the procedure, to help you achieve a flawless look. Red LED pulses increase collagen production and enhance moisture levels for a more youthful appearance. Blue LED lights treat seborrheic dermatitis, acne and kill the bacteria that causes acne.
Vivace's insulated microneedles deliver warming energy. This encourages a process which speeds up healing and supports the production of elastin and healthy collagen.
Your cells experience increased blood supply, growth factors and longer-term new collagen formation.
The procedure is more effective than existing needling techniques, because of the combination radio frequency technology.
Results vary and are illustrated as a guide only. Any surgical or invasive procedure carries risks. These risks will be discussed with you in detail. A second opinion is beneficial and advised.