As a Facelift expert, Specialist Plastic Surgeon, Dr Jack Zoumaras, offers the best possible Face and Neck Lift's for you. In the younger patient, or for those that want a minimally invasive incision with less downtime, Dr Jack Zoumaras offers new cutting edge lifting procedures 'like' the PonyTail Facelift that has been founded by Dr Kao in the USA.


Many patients come to a Plastic Surgeon's office asking to lift their face and tighten the skin like when they place the hair up in a Pony Tail. Other patients ask for shorter lifting procedures that conceal all the incisions in the hairline. This is how the Pony Tail lift was born, while a compromise to a Full Face and Neck Lift, in the right patient it can tighten skin, rejuvenate the upper face and even tighten your neck line.
Anatomy of the PonyTail Lift
To understand how best to lift the face with a Ponytail Facelift one must have a deep and thorough understanding of Facial Anatomy, and the anatomy of facial ageing. This ensures that your facelift result will not be "plastic", but rejuvenating, natural, and amazing.
Facelift expert, Dr Jack Zoumaras, is a peer reviewed Plastic Surgeon, and knows how to respect your anatomy to transform your face.
The Face consists of 5 concentric layers that differ in consistency in
different parts of the face.
Layer 1 is Skin which is thickest around the cheek and nose, and thinnest on the eyelids and temple.
Layer 2 is Fat which is prominent around the cheeks and negligible in the eyelids (the fatty "bags" that we see under the eyelids comes from a deeper layer (deeper even than Layer 5).
Layer 3 is the Superficial Musculoaponeurotic System (SMAS), a muscle layer that allows us to be humans, it is responsible for allowing us to talk, smile, whistle, sing, open and close our eyes, and for all facial animations.
Layer 4 is a space that contains Ligaments, Facial nerves and Vessels. The ligament holds the upper three layers and rests on Layer 5. The ligament is at its thickest in Layer 4 and branches into the dermis of the skin, akin to fine branches of a tree.
Layer 5 is bone where the ligament holding up the facial anatomy resides on (Cheek and Jaw bones). In the cheek and neck there is no bone and it is deep fascia that is representative of layer 5.
As we age, all 5 layers age (and this could be at varying stages), starting with skin laxity, descent of facial fat and loosening of muscle. The ligament that holds the upper layers weakens, and you begin to get changes that show up, such as; loose skin, droopy brows and eyelids, nasolabial folds and a loose neckline.
A Ponytail Facelift can lift Layer 3 and 4, but because it does not aim to separate the skin (Layer 1) from the muscle (Layer 3), only a limited amount of skin can be removed. It is therefore suitable if you do not have a lot of excess skin.
A Ponytail Facelift can improve skin tone, lift the brow and upper face and tighten the neck line, giving you a rejuvenated and glamorous look.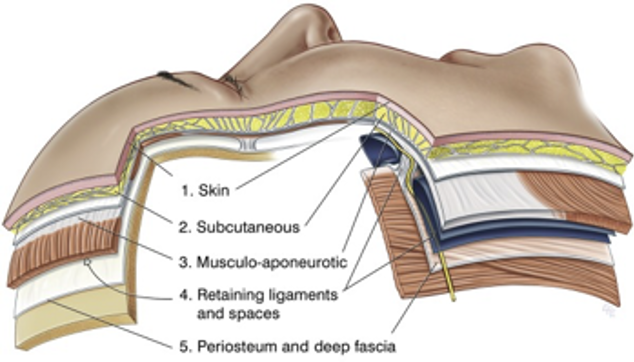 Ponytail Facelift Options
A Pony Tail Lift is our cutting edge mini lift for the younger patient who wants to lift the upper part of the face (Brow, Upper Eyelid and Cheek). This procedure involves a carefully placed incision in the hairline so that it's not noticeable. The access allows Dr Jack Zoumaras to reach the deep structures of the upper face, muscle and ligaments(Layer 3 and 4), and reposition them higher to rejuvenate and highlight the cheek bone and brow.

The procedure can be done as day surgery and you can return to work after 10 days.
A PonyTail Facelift combines the PonyTail Lift with lifting the Neck area through hidden incisions behind the ear and adding structural fat grafting to correct more aspects of facial ageing. This is a combination procedure for those that want to lift their upper face (cheek) and brow and want to tighten the neckline but do not want to go through a full Face and Neck Lift. The addition of structural fat grafting enables areas like the naso labial fold and jowls to be lifted and smoothed.
The procedure will be illustrated in detail and you will be given a detailed instruction sheet on expected post-operative course and potential complications during your consultation with Dr Jack Zoumaras. It is recommended that you are a stable weight for at least 3-6 months to obtain the best possible results. It is advised to stop smoking at least 6 weeks before and after surgery.