April 2022-Present
Fortunately we are behind the pandemic and no restrictions or masks in clincial situations are required. We continue to advise standard precaution like hand sanitisation.
June 26th 2021 update
In light of recent Sydney stay at home orders.
Artiste Plastic Surgery as a medical practice is an essential service and we remain open.
Elective surgery is continuing as normal and we ask any one with any symptoms to re-schedule your appointment.
We continue to obey strict social distancing, wearing of masks, temperature checks and constant cleaning of surfaces.
As of July 1st 2020
We are now performingss Elective Plastic and Aesthetic Surgery with NO restrictions
Updated Information 5th June 2020
We are open for face to face consultations Tuesdays and Fridays as normal. We are happy to be performing surgery at this time at a 50-75% capacity.
See below our Face to Face protocol of temperature checks, hand sanitisation and physical distance at Artiste.
We remain open.
Elective Plastic Surgery, unless urgent, is temporarily suspended across Australia and we will keep you updated on any changes.
Your safety is always our priority at Artiste Plastic Surgery, and we are happy to extend new safety measures during the global pandemic of Covid-19.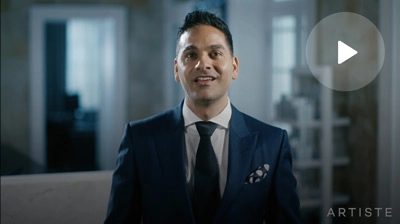 The only change is that all of our consultations are currently being performed with video. During the consultation Dr Zoumaras will answer all of your questions, show you before and after photos, and show you a procedure presentation by sharing his screen.
The following procedures and protocols that Artiste is undertaking are endorsed and recommended by the World Health Organization (WHO) and go beyond what is necessary.
At Artiste when we're-open for all our patients and for current Category 1 and 2 (urgent patients), hand sanitising stations will be located throughout the clinic. It is a requirement that when entering you sanitise your hands.
Your temperature will be taken from one of our staff members and it is advised that you attend your appointment on time and alone where possible. 
Social distancing will apply in the office and only 6 patients at a time can be present in the office (100 sqm space). Our waiting room chairs are spaced apart 1.5 metres apart.
Everything remains the same as if it is a face to face consultation (Full Medical History, Video Examination and Treatment Options). We then discuss the nexts step for a face to face consultation and surgery in the coming months. A detailed quote will be provided so you can organise your transformation.
For those patients with medically urgent issues, including; ruptured breast implants, trauma or skin cancer, we can consult and perform your surgery as usual, with precautions (temperature checks and social distancing).  Any urgent procedures will be carried out in small private hospital facilities to minimise the risk to you and staff.