Eyelid Surgery (Blepharoplasty)
If you want to open and brighten your eyes and look more fresh and less tired than a blepharoplasty is the solution for you. As we age our eyelid region becomes smaller and we begin to get wrinkles and show hollowing or fat bags. At Artiste Plastic Surgery a blepharoplasty will open and brighten the eyes to restore a freshness to your eye region and will have people wondering what you did. 
Youthful eyes have an elegant transition between the lower eyelid region and the cheeks. The fullness that is found their in youth empties with ageing, detracting from the majestic beauty of the eyes. Eyelid surgery (blepharoplasty) can soften this area to correct age-related changes, restore a fresher-looking eye region, and rejuvenate the appearance.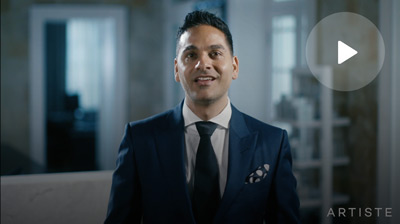 Learn about the types of eyelid procedures Dr Jack Zoumaras offers and why patients commonly consider eyelid surgery for a fresh and less tired look.
EYELID SURGERY PROCEDURES:
Dr Zoumaras will restore a youthful and aesthetically pleasing appearance to the eye area. His careful attention to detail is unmatched and allows him to remove excess skin and redistribute the fat to blend the eyelid and cheek junction, address excess wrinkling, and correct volume atrophy so that your eyes look naturally and youthfully stunning.

At Artiste we are excited to offer the following procedures to Brighten and Open your eyes.
Our Upper Eyelid Blepharoplasty where excess skin is removed and fat is re-positioned to open and brighten your eyes.
Our Office Upper Eyelid Pinch Blepharoplasty where excess skin is removed under local anaesthetic to open your eyes.
Our Lower Eyelid Blepharoplasty procedure that removes excess skin, re-positions fat and tightens the eye to smooth wrinkles and remove hollowness to brighten your eyelid region.
Our Trans-Conjunctival Pinch Skin Lower Eyelid Blepharoplasty procedure is for the younger eyelid to smooth dark circles and remove some skin to brighten the eyelid region.
A combination of Upper and Lower Eyelid Blepharoplasty to brighten and open up your eyes.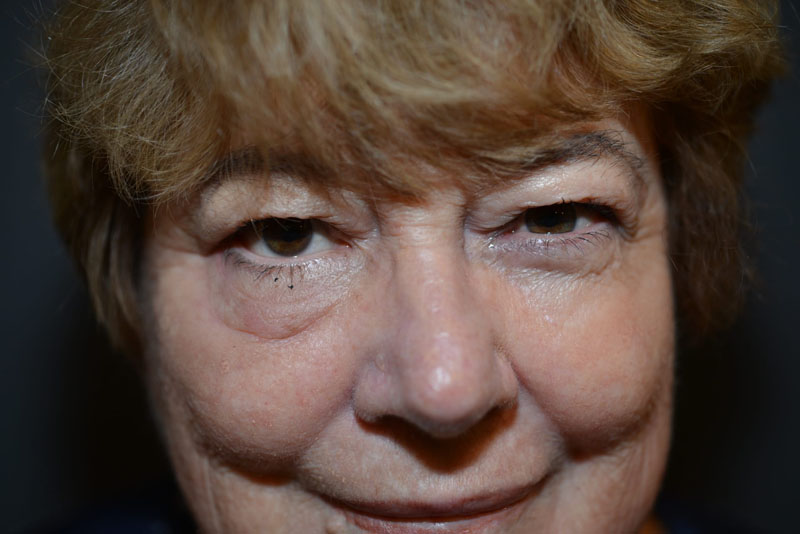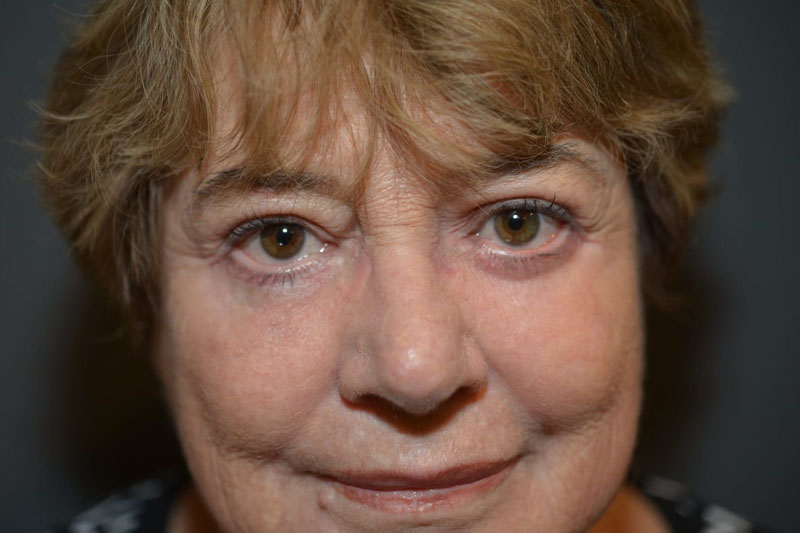 68 Year Old Upper and Lower Blepharoplasty (Eyelid Surgery)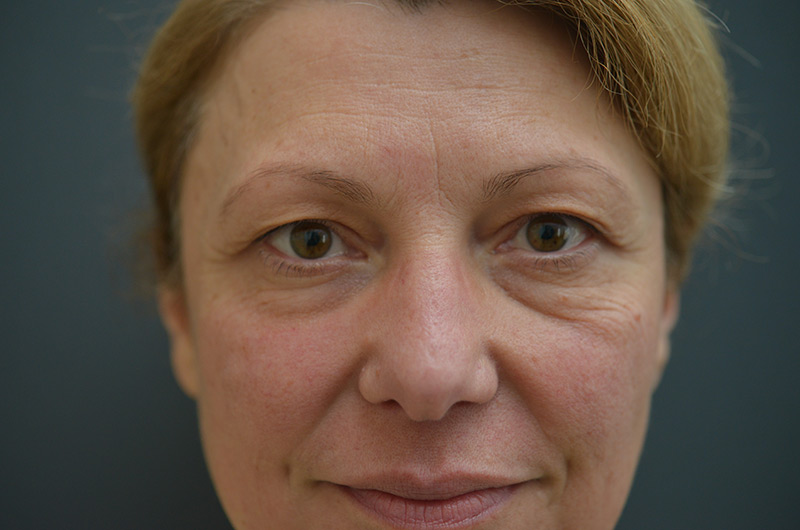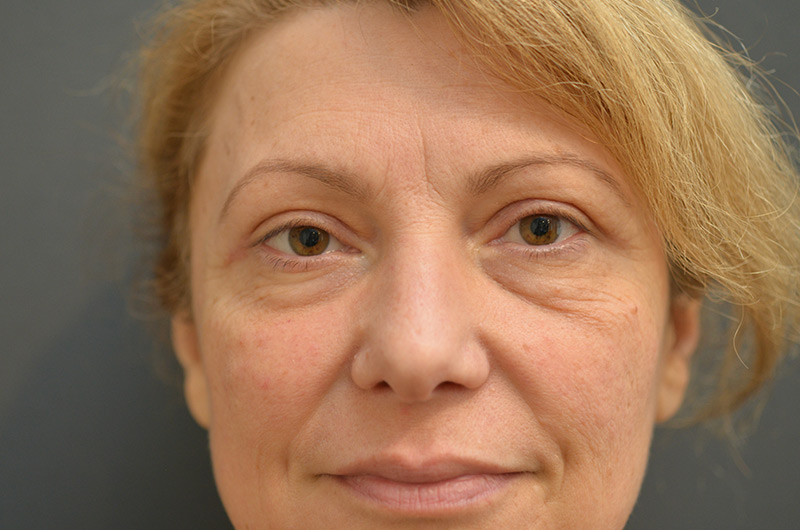 49 Year Old Upper Blepharoplasty (Eyelid Surgery)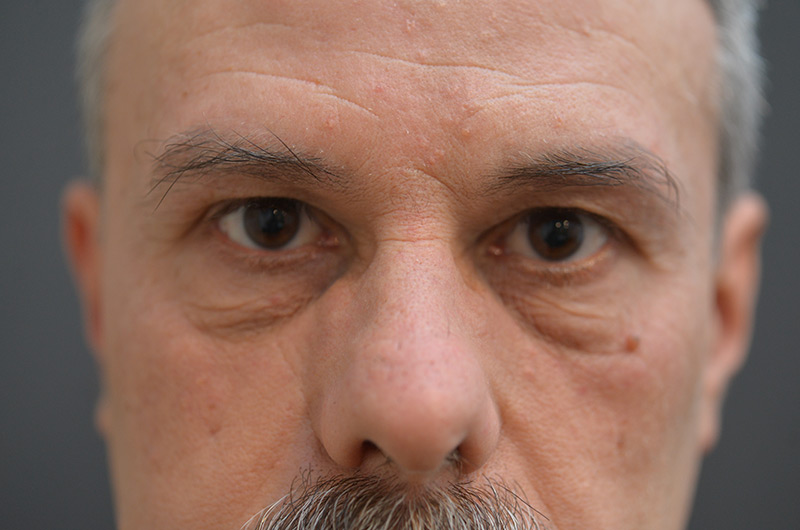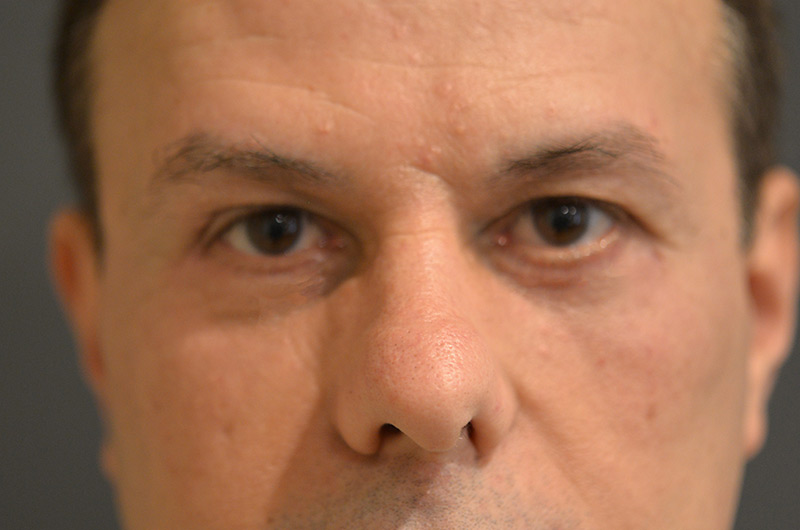 53 Year Old Lower Blepharoplasty (Eyelid Surgery)
Tighter and More Lifted Eyelid Tissues
With time, the upper eyelid skin loses elasticity. This leads to wrinkling, hooding, sagging, and a tired appearance. Dr Zoumaras will carefully assess your eyelids and tighten or remove the excess skin, lifting the tissues to revitalise your appearance. He will also intervene where the ligamentous support of the lower eyelid has attenuated with age to provide a tighter and more naturally youthful look to the eyelid and cheek junction.
Smoother Skin With Fewer Wrinkles
The loss of elasticity and shifting of fat pads around the eyes typically leads to crow's feet wrinkles and eventual "bags" under the eyes. Removing excess skin and tightening the tissues helps smooth out the eyelid area, eliminating wrinkles and creating a smoother and more even appearance.
Softer and Fuller Lower Eyelids
The eyelids naturally have a small amount of fat in them, which is why youthful eyes tend to look soft and round. One of the first signs of ageing is bags under the eyes that form because the fat has become displaced. Dr Zoumaras will offer the appropriate intervention to address volume atrophy and blend the eyelid and cheek junction using surgical and non-surgical rejuvenation treatments.
An Upper Eyelid Sulcus (Asian Eyelid Surgery)
While Caucasians and even some Asians have a lid fold or additional crease in the upper eyelid, many Asians do not. Dr Zoumaras uses an increasingly popular eyelid surgery technique to create the upper eyelid sulcus, or "double eyelid," in Asian eyelids that lack it. This helps the eyes look bigger and makes it easier to apply eye makeup.
Open and Brighten your eyes, look rejuvenated, fresh and not tired.
BLEPHAROPLASTY TECHNIQUES
Through his extensive experience and training around the world by leaders in facial aesthetics, Dr Jack Zoumaras has learned that when it comes to the eyelid region, a conservative approach of "less is more" is most appropriate.
Upper Blepharoplasty
Dr Zoumaras corrects signs of ageing in the upper eyelids
An inconspicuous incision in the creases of the upper eyelids makes it possible to remove excess skin
Removal of excess skin improves the shape of the upper eyelids
Can correct upper eyelid impediments to fully open the eyes
Manipulation of underlying fat provides a youthful eyelid region
Removal of the muscle creates a seamless scar with the tarsal fold
May also include non-surgical techniques to reduce wrinkles and improve skin fullness
The goals of upper eyelid blepharoplasty are to open the eyes and restore eyelid skin for a fresh look
Lower Blepharoplasty
Dr Zoumaras corrects signs of ageing in the lower eyelids
Uses either the skin-muscle flap approach or pinch blepharoplasty with transconjunctival fat removal
May be accompanied by canthoplasty (canthopexy), which supports and reinforces the lower eyelids to avoid laxity during and after recovery
May also include non-surgical techniques to reduce wrinkles and improve skin fullness
Ancillary Eyelid Procedures Canthoplasty
When operating on the lower eyelids, the tone and laxity of the lower eyelids may require tightening as part of the rejuvenation procedure.
As a wound heals, it tends to lay down scar tissue, and scars around the eye tend to pull the lower eyelid away from the globe. A canthopexy or canthoplasty aims to support and reinforce the eyelid through the placement of accurate internal sutures in the lateral eyelid.
Tarsal Fixation
Where necessary, the tarsus (fibrous tissue in the upper eyelid) can be fixated to the orbicularis muscle and skin
This recreates or enhances the natural tarsal fold to show a desirable amount of upper eyelid skin
Skin-Muscle Flap
An inconspicuous incision is placed beneath the lower eyelashes
A skin-muscle flap is raised to the orbital rim
The orbital-malar and tear trough ligaments are released
Fat is removed or repositioned
Excess skin is removed
Results in a smoother lower eyelid region with improvements in dark shadows, eye bags, and a more harmonious eye-cheek junction
Best in revision eye surgery, where significant skin laxity exists, and where additional support is needed
Brow Lift
The position of the eyebrows is paramount to the assessment of the upper eyelid region. Dr Zoumaras is a highly trained plastic surgeon in facial aesthetics and will accurately assess your brow position and its influence on your upper eyelid region.
In some circumstances, a lower brow position is the cause of upper eyelid excess skin and a tired appearance to the eye. In these cases, a brow lift is indicated. A brow lift can be done in conjunction with a blepharoplasty. Learn more. 
Skin-Only Upper Blepharoplasty
For some patients who qualify, this lunchtime procedure can remove excess upper eyelid skin only to rejuvenate the upper eyelids and open up the eyes
This is performed under a local anaesthetic
Pinch Blepharoplasty With Transconjunctival Fat Removal
Removes skin up to 1 cm beneath the eyes
The transconjunctival incision is made inside the eyelids to access fat
Fat is removed or repositioned
This approach preserves the orbicularis muscle
Best for those with only a moderate amount of excess skin or who prefer less downtime
May be combined with a chemical peel of the lower eyelids
Pinch Blepharoplasty Alone
Lower eyelid skin can be removed under a local anaesthetic as a lunchtime procedure
Suitable for those with mild to moderate skin excess
May be combined with a chemical peel of the lower eyelid
 
Dr Zoumaras' preferred facelift technique is the Full Facelift/High SMAS facelift, but he will offer and perform a short-scar facelift in the younger patient with mild facial aging changes and wrinkles.
Figure 1: Distribution of upper
Figure 2. Tear trough deformity
The eyelid region has a distinct transition from lower eyelid to cheek. This is blended with a lower eyelid blepharoplasty.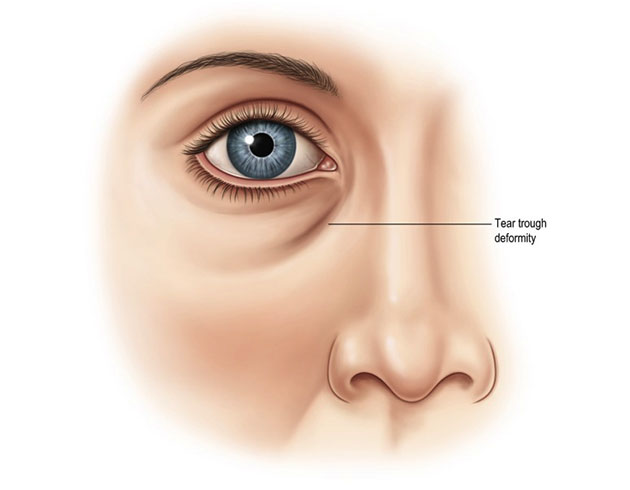 Figure 3. Cross-section view of the ageing lower eyelid deformity