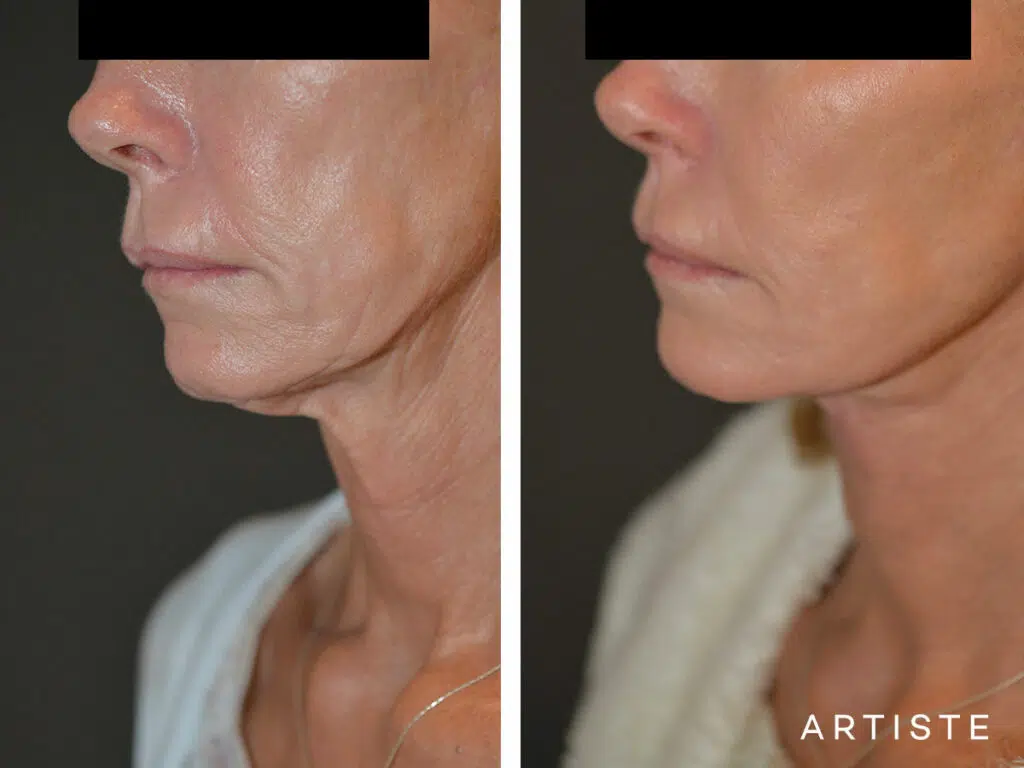 Numerous variables, including genetics, gravity, the environment, and stress, can contribute to skin ageing. Because the skin of the neck is extremely sensitive and more susceptible to these factors and the ageing process, each of these can affect the neck's appearance and make it appear older.
Since the face and neck work together to create a person's overall facial appearance, an ageing neck can significantly alter how you look. A neck lift could be an effective treatment option to shape the jawline and neck to give the face a more youthful, natural-looking profile.
How Is a Neck Lift Surgery Done?
A neck lift, also known as platysmaplasty, involves removing extra skin and fat from the neck to treat age-related wrinkling and creasing in the area and create a smoother, thinner profile.
A neck lift can be done alone or in conjunction with other plastic surgery procedures, such as a facelift by making a small incision under the chin. Through this access incision, the neck's muscles, glands, and fat are adjusted to create an appealing and symmetrical neck contour.
At Artiste Plastic Surgery, we offer various neck lift surgery options in Sydney to male and female patients seeking to regain a more attractive, youthful appearance.
How to make your Neck Lift results last longer?
After undergoing a neck lift, patients at Artiste Plastic Surgery get amazing results. Following your recovery, you should strive to maintain the effects of your neck lift. Here are practical suggestions and tips on maintaining your neck lift results:
Use topical treatments
Topical treatments can occasionally help keep your neck looking young after surgery, even if they can't treat drooping skin the same way that neck surgery can.
During your appointment with Dr Jack Zoumaras, you'll learn about the best topical treatments to use, those with nutrient-rich elements that will keep the skin on your neck healthy and moisturised and prolong the benefits of your procedure.
Avoid too much exposure to sun
Overexposure to the sun can weaken skin elasticity and make once-firm skin sag. In doing so, some of the cosmetic advantages of a neck lift are directly reversed.
To protect your neck against the harmful effects of the sun, you should:
When outdoors, wear a hat with a wide brim and appropriate apparel.
Whenever possible, stay out of the sun (between 10 am and 4 pm)
Seek shade when outdoors
Avoid tanning beds
Exercise and eat balanced meals
Maintaining excellent health and eating fruits and vegetables are beneficial for the skin. A nutritious diet can guarantee that fat accumulation won't compromise your cosmetic outcomes. Ensure your diet contains a sufficient amount of vitamin A to maintain skin health.
Avoid smoking
Use of tobacco results in skin damage and wrinkles. There are two aspects that make cigarettes hazardous to your skin. The external layers of the skin are deprived of nutrients and oxygen due to nicotine's restriction of blood flow to the area.
Second, the toxins in cigarette products hinder collagen and elastin. All of this can result in drooping skin and wrinkles.
To learn more about how this cosmetic surgery can help you achieve a younger-looking neck, reach out to Artiste Plastic Surgery. Our Specialist Plastic Surgeon Dr Jack Zoumaras knows how to transform your neck by offering procedure options for a neck lift in Sydney. Book your appointment today to learn more.
Disclaimer: At Artiste Plastic Surgery, our Plastic Surgeons led by Dr Jack Zoumaras have been trained to the highest possible degree. All surgery has risks and it is always advised to get a second opinion. Risks are very real and we cannot guarantee any result. Results are illustrated as a guide only. All risks are managed and any need for revision surgery or complications (1-5%) can be managed by our specialist plastic surgeons.
Any statements on how you will feel is based on Level V Evidence:
Level V: How you will feel after plastic surgery varies between individuals, depending on psychological and physical factors. Our internal research is based on how patients in our practice feel after surgery.
The blogs are not a substitute for a medical consultation and do not form as part of the doctor to patient relationship.