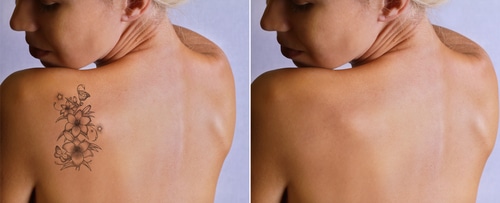 People get tattoos for a variety of reasons. Whether you got your tattoo for social, traditional, or cultural reasons, you may come to regret the decision for a variety of reasons. Some find that having tattoos on commonly revealed areas such as the arms can affect their work, and they may have a hard time getting people to take them seriously, which prevents them from excelling in their career. Often, people who get tattoos out of rebellion when they're young and careless change their mind as they age.
No matter the reason, if you are suffering from tattoo regret, there are many cosmetic options for removing or covering your ink. These are safe and effective procedures that can provide you with a reduction in the appearance or complete removal of your tattoo.
Tattoo Removal Procedures
Serial excision:

Using a scalpel, an incision is made in a triangular or circular shape to remove the tattooed skin. Then, the wounds will be closed with stitches. Typically, this technique will require multiple surgeries to remove all of the tattoo.

Benefits:

Effective for removing larger tattoos
Direct excision:

Using a scalpel, the tattoo is removed. The wound is closed with stitches. This incision technique will result in a linear scar

Benefits:

Effective for removing smaller tattoos

Offers improved precision
Tattoo camouflage:

Flesh-tone pigments are tattooed over the tattoo. The tattoo will be less noticeable because it will be disguised by the skin-toned colours.

Benefits:

Blends in with your skin tone

Low risk of infection or irritation

No scarring
Tissue expansion:

The skin is stretched using a tissue expander, which is inserted beneath the skin and filled with saline. Once removed, the surgeon can use the new tissue/skin to replace the tattooed skin.

Benefits:

Offers a near-perfect match to the colour and texture of the skin

Scarring is minimal
Dermabrasion:

A surgical technique that involves removing the outer layers of skin with a mechanical process of exfoliation. Often needs multiple procedures.

Benefits:

Effective for large and small tattoos

Affordable

Laser therapy:

A laser is used to emit beams of light to remove pigment in the skin and diminish the appearance of the unwanted tattoo.

Benefits:

Effective for tattoos containing a lot of colour

Leaves the skin looking smooth and fresh
Dr Zoumaras can help you decide on the best technique for your tattoo removal procedure based on the colour, size, and shape of your tattoo.
If you are feeling tattoo regret and are interested in tattoo removal, Dr Zoumaras can provide you with additional information. You can schedule your consultation by calling 02 9327 1700 or by filling out our online contact form.