High SMAS Facelift
A High SMAS Facelift is my preferred choice and is available at Artiste in our Platinum Facelift Packages.
As mentioned in the previous blogs lifting the SMAS as a flap is the key to reversing the ageing process and rejuvenating the face. 
Background Anatomy and Technique
The first layer of the face is skin, followed by facial fat and the SMAS (superficial musculo-aponeurosis system) and then nerves, blood vessels and the root of the facial ligaments.
The first step of a Face Lift is elevation of the facial skin to expose the underlying fat and SMAS layer. The next step is to gently lift the SMAS and dissect it up as a flap. This allows bi laminar dissection of the facial tissues to rejuvenate the face. We now have a skin flap and a SMAS flap that can be moved in any direction to cause the desired effect. Once placed in the position that is desired the excess SMAS and skin are either utilised or excised and the face is transformed to its youthful self with ligaments, SMAS, fat and skin tightened and re-positioned naturally.
The High SMAS Flap
By lifting the SMAS we are moving the skin, fat (Malar pads) and muscle that have fallen during ageing. The ligaments of the face the foundations are also strengthened by moving the SMAS. The overlying skin is then re-draped and not overly tightened. The result is dramatic but natural.
A traditional SMAS flap design  begins below the cheek bone and extends into the cheek and neck and this lifts the jowl, cheek and neck area. The lower eyelid and mid face are not really lifted and an additional lower eyelid blepharoplasty is often required.
A High SMAS Facelift flap begins in line or above the cheek bone and extends towards the orbit and cheek and neck. This lifts the entire face from eyes to neck. The flap by nature of its geometry and vector of pull rejuvenates the lower eyelid, mid face, Jowl and neck.
The below figures clearly illustrate the design of each flap and the significantly more powerful reach of the High SMAS flap.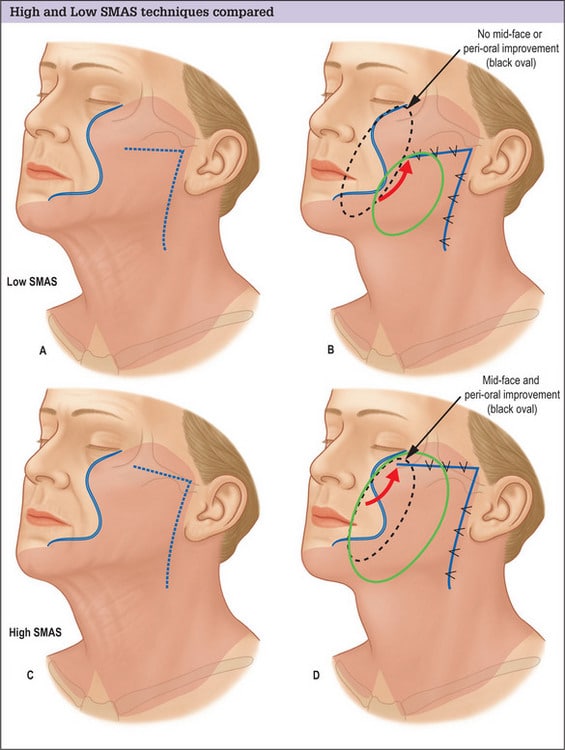 A High SMAS Facelift does require more time, expertise and finesse and as such is only performed by world leading Facelift plastic surgeons for which I am humbled to call myself one. Combined with a neck lift the results are dramatic, natural and once in a lifetime surgery. Your face does not age overnight, and as such your Facelift Plastic Surgeon spends all day rejuvenating your face with the High SMAS face Lift. 
Simply put a High SMAS flap is the anatomical surgical correction of facial ageing. As seen in the clinical example the results are dramatic yet natural.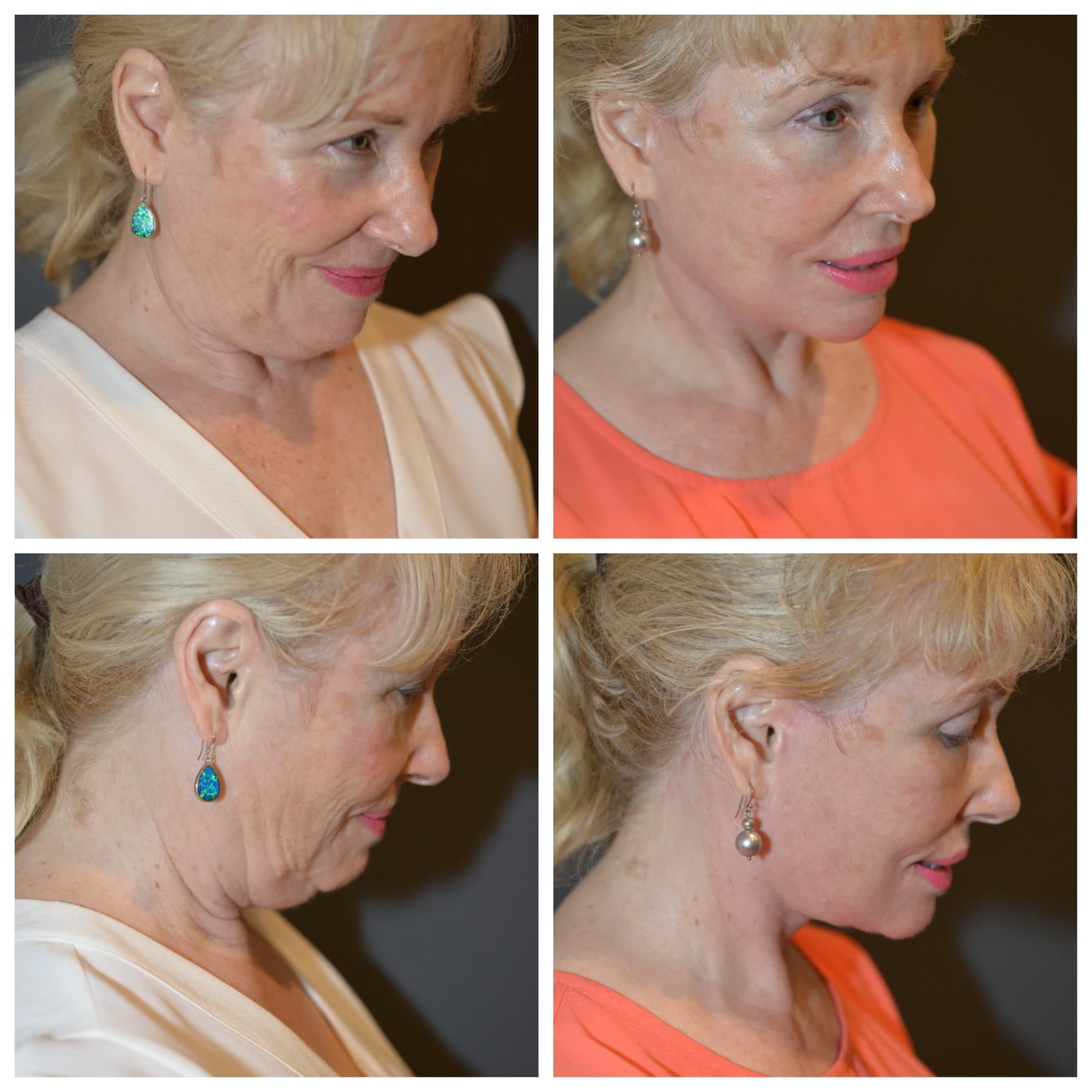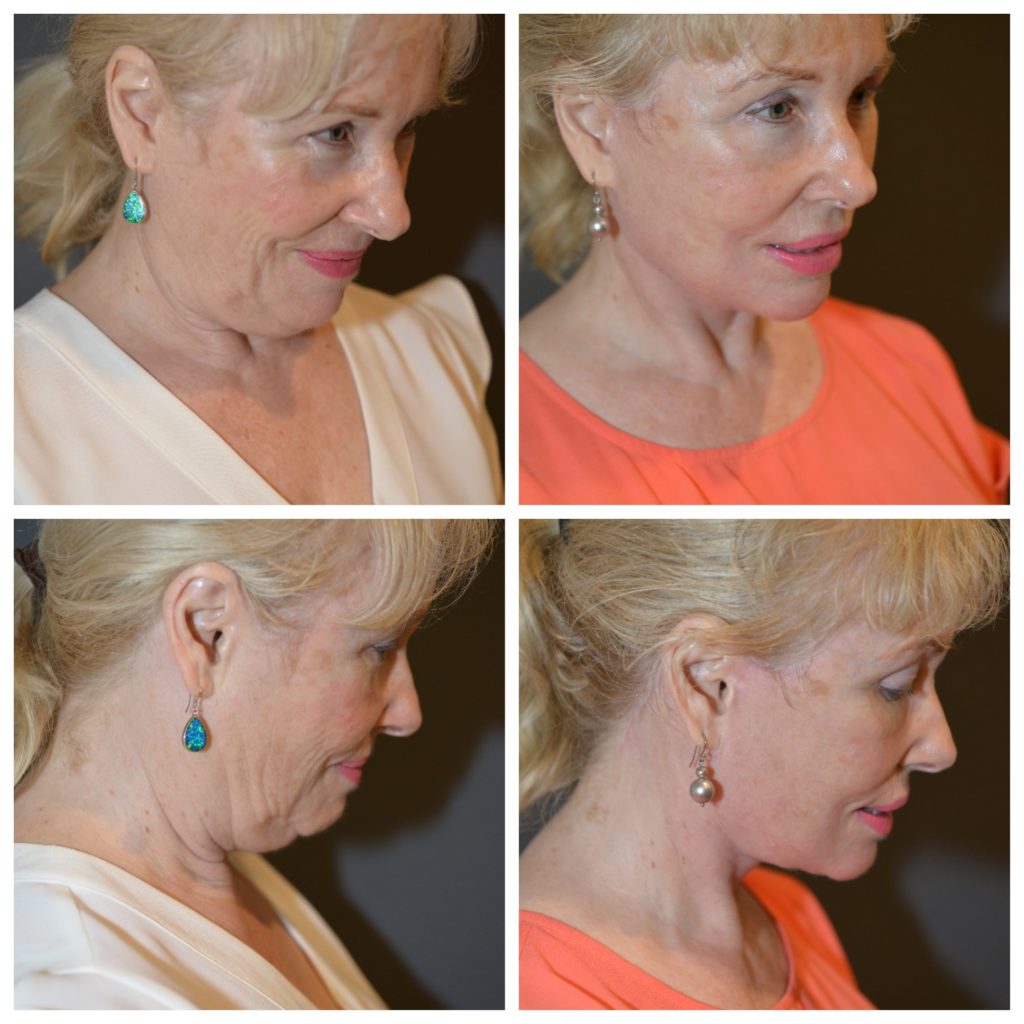 see more at Facelift Gallery