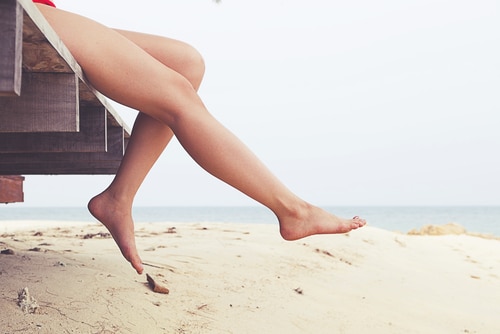 Removal of spider veins and varicose veins has come a long way from the techniques used in the generation before us. Unsightly, gnarled bulges on the upper and lower legs were painfully removed with a stripping method. Today, there are more options for leg vein removal that are virtually painless and provide noticeable results after about eight weeks. Whether your reasons for considering treatment are "vain" or related to pain, Dr Zoumaras provides a vein treatment that will meet your needs.
No More Swelling
Swelling can result when the valves of the vein become loose or soft. This causes a "backwash" of blood flow that can stretch the veins and leak into ankle and leg tissue, causing the puffy appearance and feeling. This occurrence is, thankfully, not a major health concern, and the spider veins and varicose veins that appear as a result are actually a superficial system that can be destroyed without compromising circulation.
One method of eliminating leg veins involves a thin catheter that is inserted into the affected vein. Radio waves are emitted through the vein to shrink the collagen in the vein walls. This causes the vein to collapse and then disappear once it is naturally absorbed by the body. The procedure is painless since anaesthesia is injected into the vein before the procedure begins.
No More Pain
If a substantial amount of blood pools into the legs, the legs can cramp or throb and cause the legs to feel heavy. Clear fluid from the affected veins can also seep into the surrounding tissues and cut off circulation to the skin, which can lead to skin irritation, rashes, or even ulcers. Laser vein removal is another means of removing the affected veins and alleviating any pain and swelling. Bursts of light are concentrated on the bulging vein so that it collapses and disappears. For smaller spider veins, sclerotherapy is often used. The injectable solution causes the walls of the vein to swell, stick together, and naturally dissolve.
More Confidence
Although a quarter of those who suffer from unsightly leg veins are men, almost all who seek treatment for varicose and spider veins are women. A few weeks after treatment, their embarrassing or painful leg veins are permanently gone, and they can show off their smooth, vein-free legs with confidence.
For your consultation for spider vein or varicose vein treatment, please schedule your consultation with Dr Zoumaras by calling (02) 9327 1700, or fill out our online contact form today.