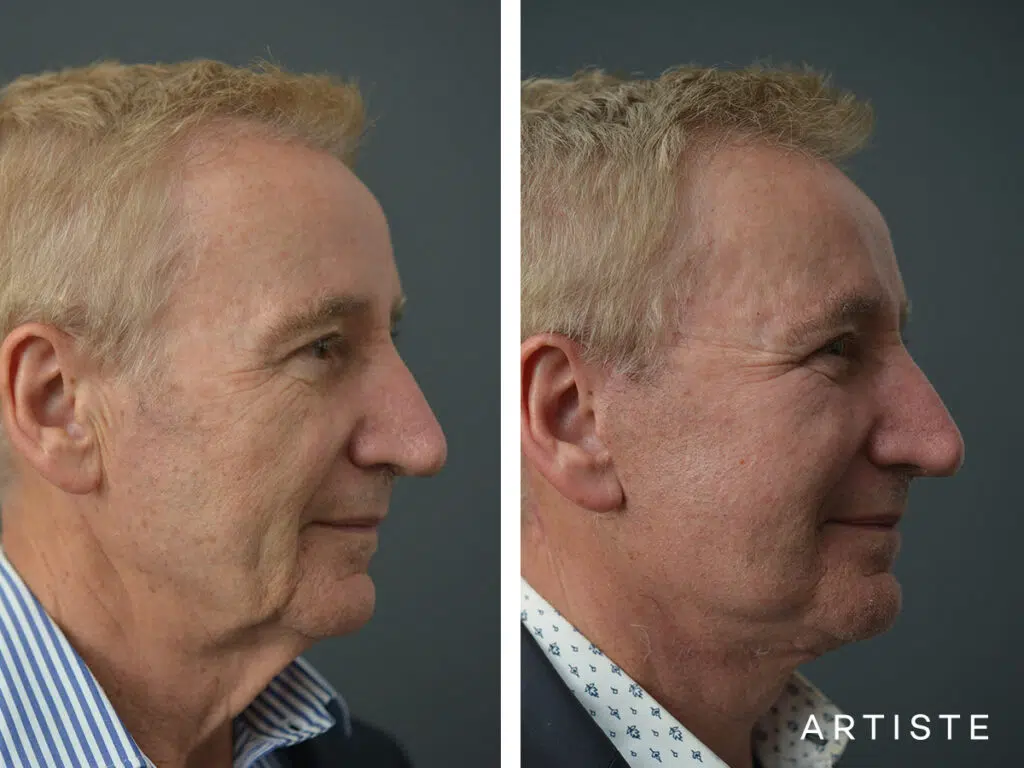 Sagging skin below the chin or jawline, known as 'jowls', is often one of the most noticeable signs of ageing. Most people develop jowls due to the loss of skin elasticity over time. However, it can be less pronounced in people with more fat or collagen. Some may not have it due to genetics or lifestyle choices.
Artiste Plastic Surgery shares some of the most common causes of jowls and how a Deep Plane Facelift can eliminate them.
What are the causes of jowls?
Skin ageing – With the natural ageing process, the skin on the cheeks and below the jawline loses elastin and the development of collagen decreases. As this happens, the skin loses its firmness and tightness, causing your cheeks and jawline to sag.
Genetics – If either of your parents has jowls, it is more likely that you will also develop them. It may also be possible to develop jowls early, such as in your teens or twenties, especially if you have thin skin or lower collagen and elastin levels.
Weight loss – When you experience a significant amount of weight loss, the stretched skin, including the skin on your face, causing for the development of jowls.
Getting rid of jowls with Deep Plane Facelift
There are various options for eliminating sagging jowls, including surgical procedures like a Deep Plane Facelift. This advanced cosmetic surgery or facelift technique lifts the muscle and skin layers in one flap to a youthful position, resulting in firmer skin, lifted jowls, and a rejuvenated neck.
This procedure is a great option for younger patients who want to lift their jowls and face when a neck lift is unnecessary, addressing the early signs of ageing. Aside from tightening the jowls, a deep plane facelift can make you look fresh and achieve a naturally youthful appearance.
How can Artiste Plastic Surgery help?
If you want to get rid of your jowls and refresh your overall look with a deep plane facelift, reach out to Artiste Plastic Surgery in Sydney. Our Specialist Plastic Surgeon Dr Jack Zoumaras is one of the few experienced surgeons offering this advanced facelift technique. Book your consultation today to find out if this facelift procedure is right for you.
Disclaimer: At Artiste Plastic Surgery, our Plastic Surgeons led by Dr Jack Zoumaras have been trained to the highest possible degree. All surgery has risks and it is always advised to get a second opinion. Risks are very real and we cannot guarantee any result. Results are illustrated as a guide only. All risks are managed and any need for revision surgery or complications (1-5%) can be managed by our specialist plastic surgeons.
Any statements on how you will feel is based on Level V Evidence:
Level V: How you will feel after plastic surgery varies between individuals, depending on psychological and physical factors. Our internal research is based on how patients in our practice feel after surgery.
The blogs are not a substitute for a medical consultation and do not form as part of the doctor to patient relationship.