In the pursuit of looking improved, modern cosmetic surgery has evolved to offer innovative and transformative procedures. Among the most groundbreaking techniques is the Deep Plane Facelift, an exclusive offering by the peer reviewed Dr. Jack Zoumaras at Artiste Plastic Surgery in Sydney.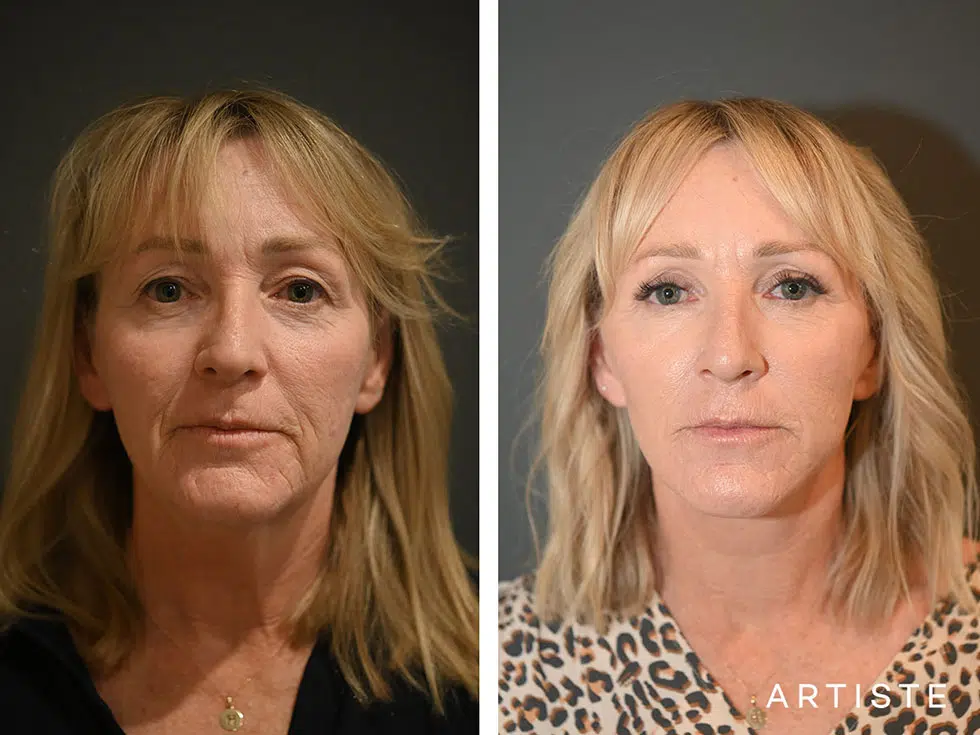 In this article, we will explore the distinction between a Standard Deep Plane Facelift and its extended counterpart, shedding light on their benefits and applications.
Standard Deep Plane Facelift
The Standard Deep Plane Facelift is a cutting-edge surgical procedure that lifts the muscle and skin layers in one flap, resulting in a quicker recovery time compared to traditional facelifts. This technique is particularly ideal for younger patients who wish to combat the initial signs of aging, primarily targeting the jowls and face without the need for a neck lift.
By releasing critical facial ligaments and lifting the underlying muscle, the Standard Deep Plane Facelift achieves a remarkable rejuvenation of the nasolabial folds, jowls, and cheeks. The procedure not only improves your appearance but can affect your outlook (reserach pending publication).
Extended Deep Plane Facelift
While the Standard Deep Plane Facelift provides excellent results for specific facial concerns, some patients may require a more comprehensive approach to address additional areas of concern. This is where the Extended Deep Plane Facelift comes into play.
The Extended Deep Plane Facelift expands the scope of the procedure to lift and rejuvenate the mid and lower face, including the cheeks, jowls, and neck. By tightening the underlying musculature, this extended technique offers more natural and longer-lasting results, providing an overall enhanced facial rejuvenation.
Which Method is Right for You?
Determining the most suitable facelift method for your unique needs requires a comprehensive consultation with a qualified and experienced plastic surgeon. Factors such as age, facial structure, desired outcomes, and the extent of aging signs play a crucial role in the decision-making process.
For younger patients with early signs of aging, the Standard Deep Plane Facelift may be the perfect solution to lift and tighten the jowls and face, providing a youthful and refreshed appearance. On the other hand, those seeking a more comprehensive facial rejuvenation and addressing concerns beyond the mid and lower face may benefit from the Extended Deep Plane Facelift.
Deep Plane Facelift by Dr Jack Zoumaras
If you're considering a deep plane facelift, consulting with a world-trained plastic surgeon like Dr. Jack Zoumaras is the first step towards achieving your aesthetic goals. His expertise and commitment to excellence make him a top choice for this transformative procedure. Don't miss the opportunity to embrace the possibilities of a more youthful and revitalised appearance.
Book a consultation today and gain valuable insights into the art of facelift surgery through his book, "The Art of Facelift." Take the leap and discover the path to renewed confidence and beauty!
Disclaimer: At Artiste Plastic Surgery, our Plastic Surgeons led by Dr Jack Zoumaras have been trained to the highest possible degree. All surgery has risks and it is always advised to get a second opinion. Risks are very real and we cannot guarantee any result. Results are illustrated as a guide only. All risks are managed and any need for revision surgery or complications (1-5%) can be managed by our specialist plastic surgeons.
Any statements on how you will feel is based on Level V Evidence:
Level V: How you will feel after plastic surgery varies between individuals, depending on psychological and physical factors. Our internal research is based on how patients in our practice feel after surgery.
The blogs are not a substitute for a medical consultation and do not form as part of the doctor to patient relationship.