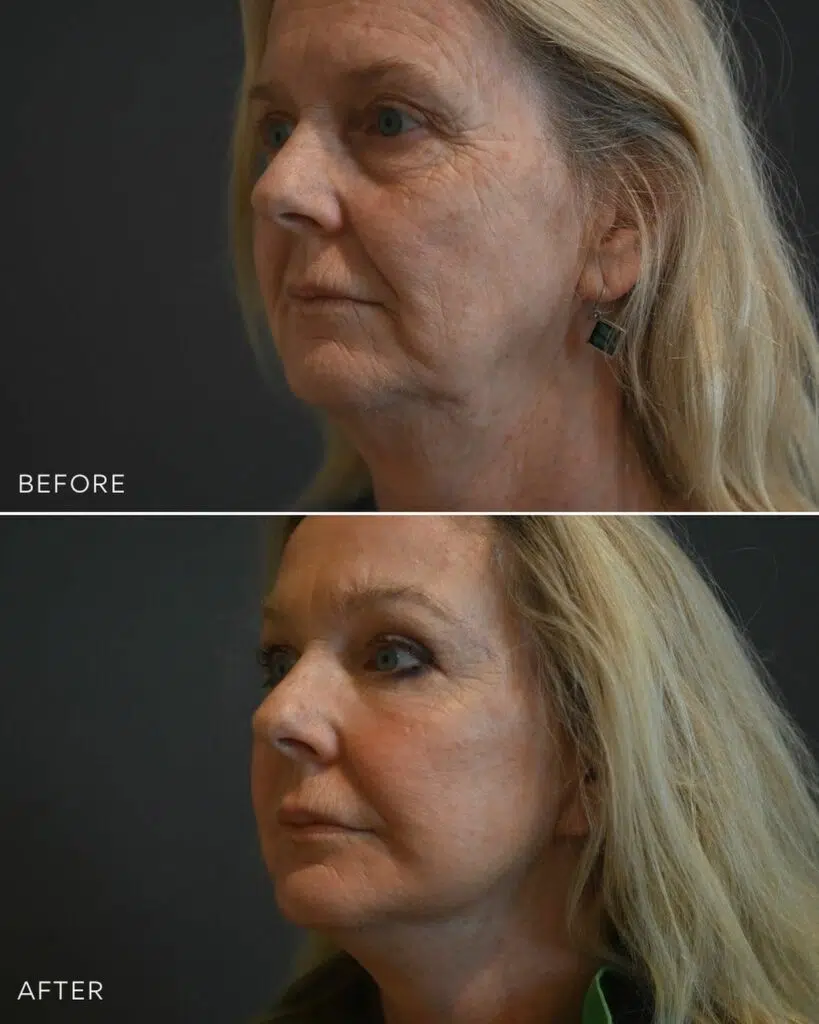 An extended deep plane facelift is a surgical procedure that aims to lift and improve the appearance of the mid and lower face, including the cheeks, jowls, and neck. This type of facelift differs from the regular deep plane facelift in that it addresses a larger area of the face and tightens the underlying musculature for a more natural and long-lasting result.
Benefits of Extended Deep Plane Facelift
A more youthful and natural-looking appearance – By repositioning the deeper structures of the face, an extended deep plane facelift can create a more defined jawline, lift the cheeks, and smooth out wrinkles and creases.
Long-lasting result – Because the deeper structures of the face are being repositioned, the results of an extended deep plane facelift tend to last longer than those of a traditional facelift.
Minimal scarring – The incisions used in an extended deep plane facelift are typically well-hidden, resulting in minimal scarring.
Improved neck contour – An extended deep plane facelift can also address sagging skin and muscle in the neck, resulting in a more defined jawline and a smoother, more youthful-looking neck.
Costs of Extended Deep Plane Facelift
In Sydney, the cost of an extended deep plane facelift will vary depending on the surgeon and location. The surgical fee alone ranges from $15,000 to $25,000. Other costs include consultation, hospital, and anaesthetic fees.
Researching and choosing a qualified and experienced surgeon is vital, as any cosmetic surgery, such as a facelift, can be complex and have significant risks if not performed correctly.
Expected Recovery
Recovery from an extended deep plane facelift can take several weeks, and patients may experience swelling, bruising, and discomfort during this time. It is important to follow post-operative instructions provided by the surgeon to ensure proper healing and recovery.
What are the risks?
As with any surgical procedure, there are risks associated with an extended deep plane facelift. These include bleeding, infection, and nerve damage. Before deciding to proceed, you should clearly understand the benefits and risks associated with this procedure.

If you're interested in an extended deep plane facelift in Sydney and other facelift techniques, reach out to Artiste Plastic Surgery. Our Specialist Plastic Surgeon Dr Jack Zoumaras is one of the few surgeons to offer a deep plane facelift, producing natural-looking and long-lasting results amongst his patients. Book a consultation today.
Disclaimer: At Artiste Plastic Surgery, our Plastic Surgeons led by Dr Jack Zoumaras have been trained to the highest possible degree. All surgery has risks and it is always advised to get a second opinion. Risks are very real and we cannot guarantee any result. Results are illustrated as a guide only. All risks are managed and any need for revision surgery or complications (1-5%) can be managed by our specialist plastic surgeons.
Any statements on how you will feel is based on Level V Evidence:
Level V: How you will feel after plastic surgery varies between individuals, depending on psychological and physical factors. Our internal research is based on how patients in our practice feel after surgery.
The blogs are not a substitute for a medical consultation and do not form as part of the doctor to patient relationship.