What are hooded eyelids?
Hooded eyelids refer to a condition where excess skin droops over the crease of the eyelids, making the eyes appear smaller and, in some cases, impairing your vision. This condition may create a tired or aged look, and some people seek ways to correct it.
In this blog, Artiste Plastic Surgery will discuss the causes of hooded eyelids and how blepharoplasty surgery can help you achieve the desired results.
The Causes of Hooded Eyelids
Genetics: Hooded eyelids can be inherited from your parents or other family members.
Age-related changes: As we age, the skin loses its elasticity, and the muscles supporting the eyelids weaken, resulting in drooping or sagging skin.
Underlying medical condition: One of the most common medical conditions is ptosis which is the drooping of the eyelid due to nerve damage.
How Blepharoplasty Addresses Hooded Eyelids
Blepharoplasty, or eyelid surgery, is a surgical procedure that can effectively address hooded eyelids, specifically the upper blepharoplasty procedure. During the process, precise incisions are made along the natural creases above the lash line. Your surgeon will remove or re-distribute the excess skin along the tear trough, resulting in open and brightened eyes.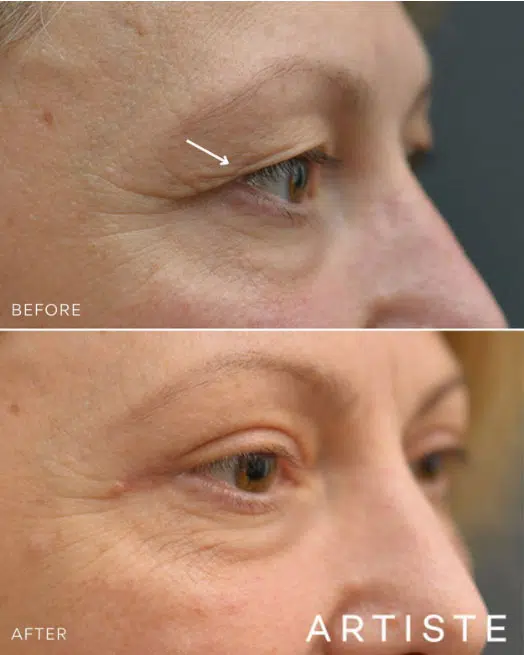 The Benefits of Blepharoplasty for Hooded Eyes
Youthful and rejuvenated appearance: By removing excess skin and addressing sagging or puffiness, blepharoplasty can make the eyes appear bigger, wider and younger.
Improved vision: Hooded eyelids can obstruct the natural visibility of the eyes. Blepharoplasty opens up the eyes, allowing them to be more visible and expressive.
Increased self-confidence: Correcting hooded eyelids through blepharoplasty can boost self-confidence and improve overall self-esteem, as patients often feel more satisfied with their appearance after the procedure.
Elevate Your Look: Consult with Dr Zoumaras
If you want to find out if you're a good candidate for a blepharoplasty surgery, reach out to Artiste Plastic Surgery. Our Specialist Plastic Surgeon, Dr Jack Zoumaras, will listen to your specific concerns and goals and determine the right procedure for you. Book a consultation with us today.
Disclaimer: At Artiste Plastic Surgery, our Plastic Surgeons led by Dr Jack Zoumaras have been trained to the highest possible degree. All surgery has risks and it is always advised to get a second opinion. Risks are very real and we cannot guarantee any result. Results are illustrated as a guide only. All risks are managed and any need for revision surgery or complications (1-5%) can be managed by our specialist plastic surgeons.
Any statements on how you will feel is based on Level V Evidence:
Level V: How you will feel after plastic surgery varies between individuals, depending on psychological and physical factors. Our internal research is based on how patients in our practice feel after surgery.
The blogs are not a substitute for a medical consultation and do not form as part of the doctor to patient relationship.