Proper care after any kind of surgery is important. It helps ensure that you get optimal results and that you don't run into risky or costly issues afterwards. Eyelid blepharoplasty is one of the most rejuvenating cosmetic surgeries that offer wonderful results. The success of the procedure, however, not only depends on the skill of the surgeon but in your aftercare as well. Knowing what to expect after the surgery can help you prepare for the post care later on. Artiste Plastic Surgery explains more today:
What to Expect After Eyelid Surgery (Blepharoplasty)?
Mild bleeding can be expected and is controlled by applying mild pressure to the area. The main reason for bleeding is elevated blood pressure caused strenuous activities like bending, coughing or lifting. You can avoid complications from bleeding by refraining from any activities that may increase your blood pressure at least 10 days after your surgery.
Swelling around the eyes and even down into the cheeks after the surgery is your body's natural reaction to the procedure. After your surgery, we will place a cold compress on your eyes for at least 30 minutes to helplessen the swelling and bleeding. It's best to continue this at home by wrapping your forehead and then placing ice packs directly on top of them for 48 hours. After 48-72 hours, you can expect the swelling to rapidly decrease. Keep your head elevated for at least 5 days following the surgery to avoid further swelling.
In some cases, discolouration may occur in the swollen areas of the face that's caused by the blood spreading beneath the tissues. While this is a normal occurrence in most patients, bruising is rare in young patients. As you heal, the colour of your bruises may change from purple to blue to yellow. Some patients may experience what appears as blistering of the eyeball but this is rarely a problem and is only caused by the swelling.
Eyelid Surgery Post-Operative Care
Most patients often get both upper and lower blepharoplasty at the same time. During the first few days after the surgery, we recommend using an ointment to keep your incisions lubricated and eye drops to keep your eyes moist. It's also best to avoid activities that may dry up your eyes such as reading, watching television and wearing contacts.
For the first week following the surgery, it's best to wear dark sunglasses to protect your eyes from any irritation that may be caused by dust and dirt or the sun and wind. The stress caused by the surgery can make your eyes tire more easily for the first couple of weeks during your recovery period. It's best not to force yourself and allow your eyes to rest so frequent naps are recommended. Any activities that increase blood flow to your eyes must be avoided. You can consult your physician about resuming exercise regimens. Your surgeon can remove your stitches between two to seven days after your plastic surgery blepharoplasty and you may feel well enough to do normal activities by the tenth day following the surgery.
Before and After Eyelid Surgery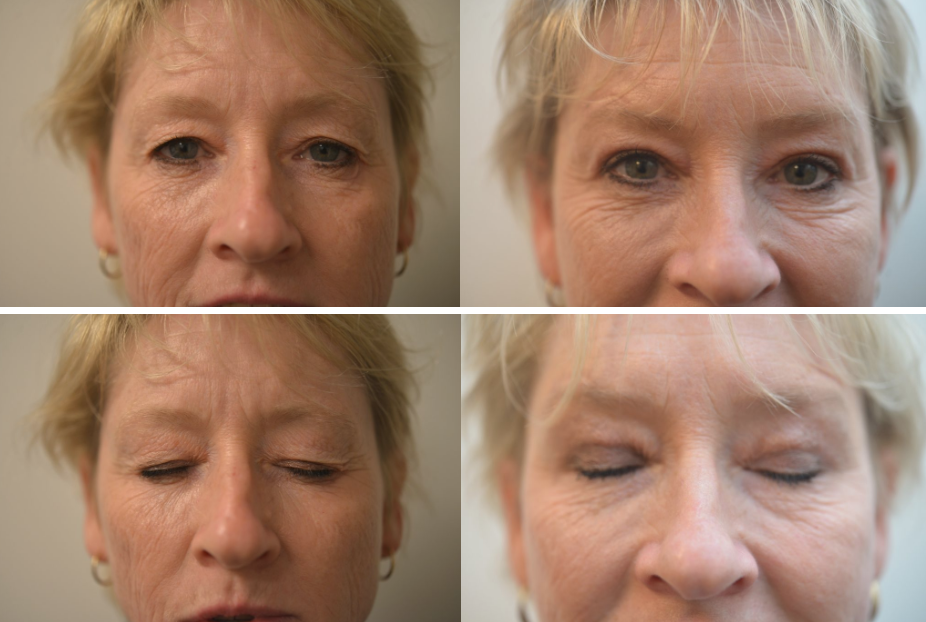 Planning to undergo eyelid surgery in Sydney? Schedule a consultation with our world-trained plastic surgeon at Artiste Plastic Surgery today and we can guide you through the entire process.
Disclaimer: At Artiste Plastic Surgery, our Plastic Surgeons led by Dr Jack Zoumaras have been trained to the highest possible degree. All surgery has risks and it is always advised to get a second opinion. Risks are very real and we cannot guarantee any result. Results are illustrated as a guide only. All risks are managed and any need for revision surgery or complications (1-5%) can be managed by our specialist plastic surgeons.
Any statements on how you will feel is based on Level V Evidence:
Level V:  How you will feel after plastic surgery varies between individuals, depending on psychological and physical factors. Our internal research is based on how patients in our practice feel after surgery.
The blogs are not a substitute for a medical consultation and do not form as part of the doctor to patient relationship.