Dr Jack Zoumaras is a Specialist Plastic Surgeon, Founder of Artiste Plastic Surgery and current Hon. Secretary of the Australian Society of Plastic Surgeons.
Anti Wrinkle Injections and Fillers have become so demedicalised that they are considered part and parcel of a beauty regime. Learn More
With this popularity many injectors and clinics advocate the use of injections as a Liquid Facelift. I also provide this service at Artiste Plastic Surgery but as an interim procedure rather than a replacement for a Facelift. This can be explained with the anatomy of the face and the ageing process. Study the next two diagrams while reading this blog.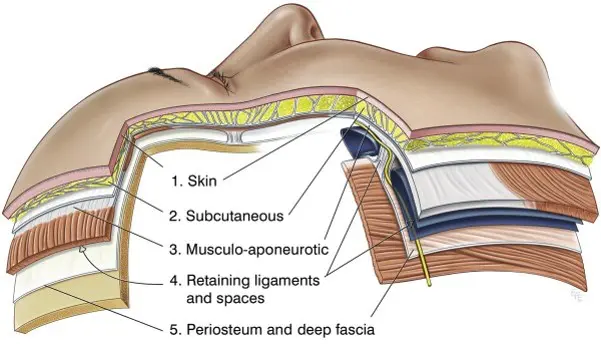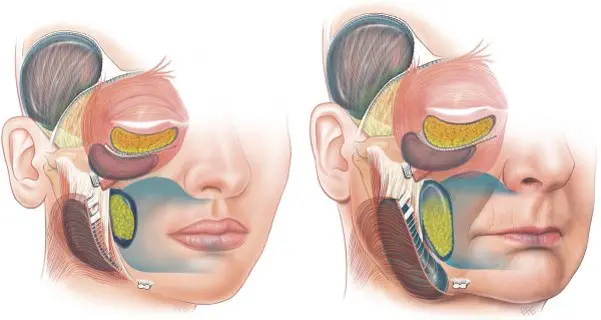 The face can be considered to be made up of 5 concentric layers from superficial to deep, Skin, fat, superficial musculoaponeurotic system (SMAS), ligaments/nerves and bone/deep tissue, and with time these layers change causing the ageing deformity. The face begins to age in our 30's and progressively begins to show common deformities by the time we are in our 60's or 70's. The rate of the ageing process is different based on genetic and environmental factors such as smoking, stress and sun exposure. All 5 layers of the face are affected differently in each individual but ultimately whether in your 50's, 60's or beyond the way the face ages is the same in all individuals. By this I mean everyone will have loose skin, lose facial volume, get jowls,marionette lines, platysma bands in the neck, eye shadows, bags under the eyes and droopy eyelids and brows. The rate at which this affects them will vary but ultimately that is the fate of the face. In the diagram above the image on the right is an aged face where the ligaments (layer 4) have fallen and the overlying skin (layer 1) and fat (layer 2) has descended into the neck.
This ageing process can be treated to slow its progression and also correct the aged changes that have taken place. While skin care, dietary and lifestyle factors can delay the acceleration of ageing the real correction of ageing changes begin with injectables and with surgery being the Gold Standard of treatment.
Anti-wrinkle injections will treat dynamic and static facial lines around the eyes, forehead and glabella to freshen up the upper face. Injectables can be used to fill facial lines, fill the cheek and lift the face. The use of 3-4 ml's of filler will enable lifting of the face by indirectly lifting the facial ligaments and filling age related volume lost. Much like a sandbag will hold up a scaffold, the filler aims to indirectly lift the ligament that has weakened. Structurally repairing the scaffold is safer and more sound.  To repair the scaffold you do a Facelift.
The marketing of a liquid Facelift has blurred the lines in terms of what it will achieve long term. In my practice as a Facelift Plastic Surgeon I would only inject a face with 3-4 ml's of filler for a period of 3 years. Beyond this point the filler will cause an inflammatory reaction that will distort the facial structure and begin to morph the face into something very unnatural. I have operated on many faces that have been injected for many years and despite the product being dissolved or last injection beyond 12-18 months, the product is still present and influences the result. Also over injection of the face is common place and is not aesthetically pleasing or anatomically correcting the ageing face. Over injecting causes a different deformity of the face as you are concealing age related changes rather than correcting them. In my practice I also don't inject tear troughs (lower eye region shadows and hallowing) for longer than 2 years as I believe for similar reasons you will puff up the area too much and would not only look unnatural but displeasing.
If you go to a 'Tyre' shop for your car you will buy tyres, if you attend an 'Ice Cream Parlour' you buy ice cream. If you go to an injector you will get injected. When you come to Artiste you get an anti-ageing assessment and offered a treatment plan based on what is required and suited to your budget and desires. As a world-trained Facelift Plastic Surgeon I have the knowledge, skill and experience to diagnose the ageing issue (Skin-Layer 1 or Muscle layer 3) and offer the custom treatment to get you looking younger and not unusual. The reason I get asked questions about injections replacing a Facelift is that my clients hear this on social through other injectors that simply cannot offer a full spectrum of anti-ageing services and by performing a liquid Facelift they claim it is replacing a Facelift. The truth is I perform liquid Facelift's in price conscious patients also, but a Facelift is the gold standard when it comes to anti-ageing treatment and it will always be the number one and only option to reverse the anti-ageing deformity. A reputable injector will not argue this point and do refer for a Facelift when injections can do no more.
A Facelift will never get replaced by facial injections.
Disclaimer: At Artiste Plastic Surgery, our Plastic Surgeons led by Dr Jack Zoumaras have been trained to the highest possible degree. All surgery has risks and it is always advised to get a second opinion. Risks are very real and we cannot guarantee any result. Results are illustrated as a guide only. All risks are managed and any need for revision surgery or complications (1-5%) can be managed by our specialist plastic surgeons.
Any statements on how you will feel is based on Level V Evidence:
Level V:  How you will feel after plastic surgery varies between individuals, depending on psychological and physical factors. Our internal research is based on how patients in our practice feel after surgery.
The blogs are not a substitute for a medical consultation and do not form as part of the doctor to patient relationship.