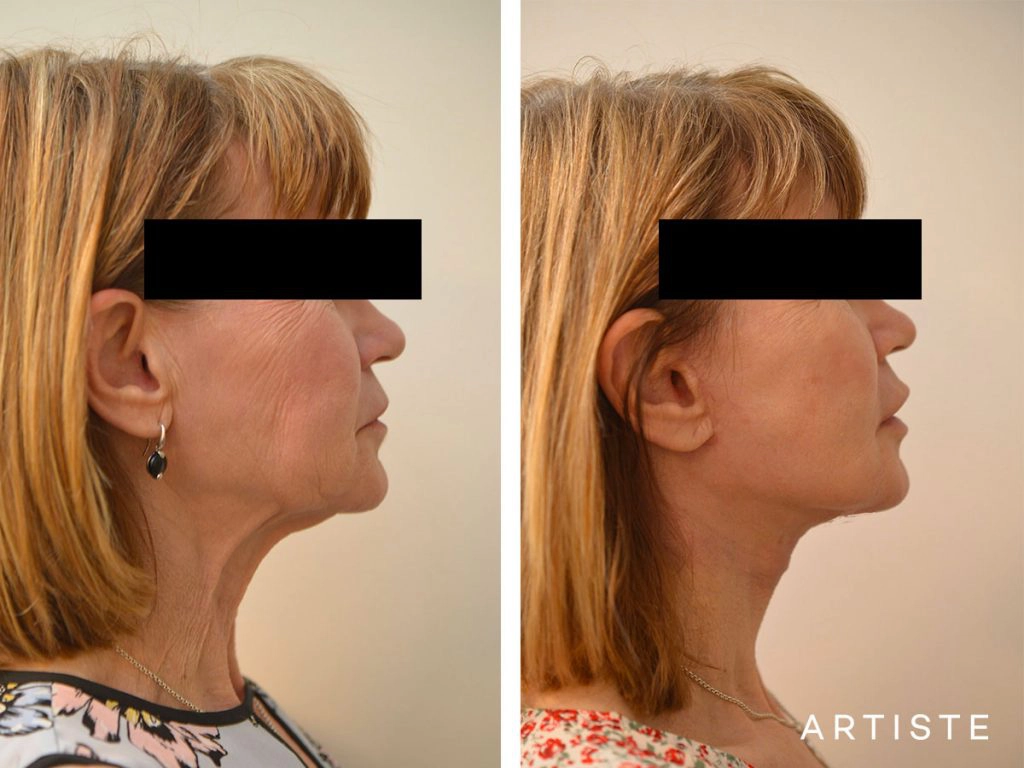 The neck is much like your face: more prone to the signs of ageing due to environmental and genetic factors than other parts of the body. As you get older, you'll start to see wrinkles and sagging skin, making you look much older than you are.
Don't fret though, there are several types of procedures that can bring back the youth on your neck. We're looking at two of the most popular types of procedures in Australia: Neck lift surgery and non-surgical neck lifts. Which one do you think fits best for you? Read more about each treatment below.
What is Neck Lift Surgery?
A neck lift surgery tightens loose muscles, removes excess skin and overall enhances your skin with long-lasting results. Such procedures are accompanied by face lift surgery.
Pros: Aside from removing excess skin, one of the biggest benefits of a neck lift surgery is that it restores the skin's youthfulness. Neck lift results are noticeable and scares are small and nearly invisible, perfect for enhancing the shape of the jawline without going through a full face makeover.
Cons: Given that this is a surgery, you'll most have general anaesthesia. If you're allergic to anaesthetics, immediately let your surgeon know so that they may suggest alternative procedures. Cosmetic procedures may not be included in your medical insurance, and a neck lift surgery can be costly. As well, recovery period can take a week up to ten days, so inform your office that you will need to take a leave of absence, avoid all forms of exercise and doing some household chores. This may be hard for people who have a busy, active lifestyle.
What About Non-Surgical Neck Lift?
A non-surgical neck lift has similar qualities as that of a regular neck lift surgery: they reduce excess skin, tighten neck tissues and make your skin smoother. The difference, then lies in their advantages and disadvantages.
Pros: From its type of treatment, non-surgical neck lifts are non-invasive – it does not involve your skin 'going under the knife' and there is little to no pain during recovery. It's also much more affordable than a neck lift surgery as this procedure does not need anaesthesia.
Cons: While non-surgical neck lifts are indeed more affordable than their cosmetic counterpart, patients who opt for this procedure tend to have several touch-ups, so the cost of a non-surgical neck lift may be more pricey in the long run. Results from these procedures only last for six months to a year, so you may need to be in contact with your surgeon more often. As well, depending on your age, a nonsurgical neck lift might not be as beneficial as a neck lift surgery.
Artiste Plastic Surgery specialises in safe neck lift surgery in Sydney that gives you the best results with a quick recovery time. Ready to give your neck a makeover? Contact us to enquire or book a consultation.
Disclaimer: At Artiste Plastic Surgery, our Plastic Surgeons led by Dr Jack Zoumaras have been trained to the highest possible degree. All surgery has risks and it is always advised to get a second opinion. Risks are very real and we cannot guarantee any result. Results are illustrated as a guide only. All risks are managed and any need for revision surgery or complications (1-5%) can be managed by our specialist plastic surgeons.
Any statements on how you will feel is based on Level V Evidence:
Level V:  How you will feel after plastic surgery varies between individuals, depending on psychological and physical factors. Our internal research is based on how patients in our practice feel after surgery.
The blogs are not a substitute for a medical consultation and do not form as part of the doctor to patient relationship.