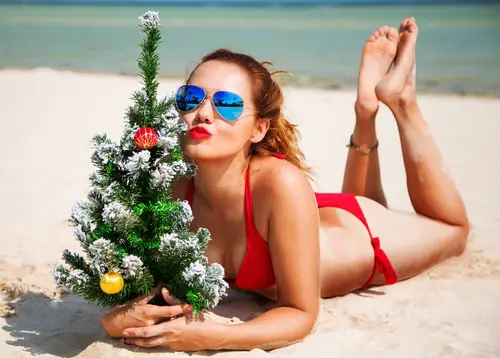 If you're wondering when to plan your plastic surgery procedure, there is no time like the present. In the United States, bright autumn leaves decorate the ground, the days have become shorter, and the weather is cold. Meanwhile, those of us in Sydney are just finishing up our winter. While the seasons and temperatures here do not fluctuate dramatically, our summer begins in December. Now is the perfect time for fellow Aussies and out-of-towners alike to schedule their trip to Dr Zoumaras' office.
Prepare for the Summer Sun
Whether you are local to Sydney or will fly in from the U.S., you can use the end-of-the-year months to prepare for more swimsuit-friendly weather in the near future. You can use any paid vacation days surrounding December 25 and New Year's Day, or you can choose to vacation a few weeks prior. When you plan to rest and recover in Sydney, you can expect comfortable weather and a relaxing atmosphere no matter the season.
Prepare for the Holidays
Even if you don't celebrate any holidays in December, it seems to be the month for get-togethers with family and friends, photo opportunities, and last-minute social gatherings that beg you to look your best. As soon as the day before an event, many people can look up to five years younger with non-surgical treatments that reduce wrinkles and add youthfulness to the skin. Popular procedures like breast augmentation and abdominoplasty usually involve a couple of weeks of recovery time, so patients should plan to have those surgeries earlier in the month.
Prepare for the Future
What better way to ring in the new year than with a completely new look? If you have been unhappy with a particular feature or area of your body for any length of time, it can wear on your confidence and keep you from enjoying life to its fullest. When you finally choose to get the procedure of your dreams, it can free you to excel at your work and personal goals, encourage you to try new adventures, and motivate you to seize exciting opportunities because of the confidence you gain. Since results are permanent with almost all surgical procedures, patients can think of their cosmetic surgery as a gift that will continue to give throughout every foreseeable season.
To schedule your consultation with Dr Zoumaras, please call 02 9327 1700 or complete our online contact form today.
Disclaimer: At Artiste Plastic Surgery, our Plastic Surgeons led by Dr Jack Zoumaras have been trained to the highest possible degree. All surgery has risks and it is always advised to get a second opinion. Risks are very real and we cannot guarantee any result. Results are illustrated as a guide only. All risks are managed and any need for revision surgery or complications (1-5%) can be managed by our specialist plastic surgeons.
Any statements on how you will feel is based on Level V Evidence:
Level V:  How you will feel after plastic surgery varies between individuals, depending on psychological and physical factors. Our internal research is based on how patients in our practice feel after surgery.
The blogs are not a substitute for a medical consultation and do not form as part of the doctor to patient relationship.