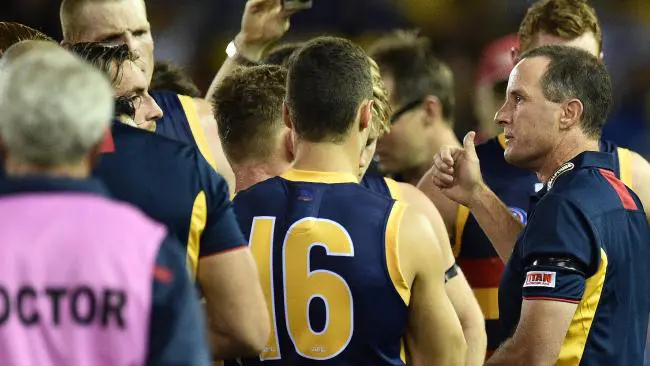 In writing my previous blog Surgeons as Athletes it struck me that the major difference in surgeons and athletes is having a performance coach.
Sporting teams such as the Adelaide Crows, Liverpool FC and New England Patriots are managed by a manager/coach. The manager and coach develop tactics and execute game plans on match day. He/she also adjusts tactics and make game day changes due to certain match conditions and unexpected injuries in real time.
The surgeon on the other hand has no manager or coach on game day and any unforeseeable issues or events like complications or unexpected anatomical variants forces the surgeon to decision making and adjustment of operation on the operating table with no dialogue with a mentor or coach and completely alone.
As a surgeon who has been in the position of an unexpected event such as major bleeding, unexpected anatomy or tumour extension I have taken mental time outs to process the situation and then make adjustments to the surgery. I have even called senior colleagues for advice on a few occasions during the surgery. How good would it be to have a coach in surgery with you to advise on these situations and not only that but also constantly give you feedback about your performance. I think efficiency would increase and the result of the operation would be improved with faster recovery. It is simple things like: how to hold your scalpel, how to stand and what equipment is best to use.
Now when I was a trainee surgeon ( Registrar) I had the manager (Surgeon) with me supervising the surgery or available from the tearoom or from afar on the phone. For non-surgeons a registrar is training to be a surgeon (Trainee Surgeon). The surgeon first supervisor's the registrar operating and helps where necessary and after a while lets the registrar do the operation while waiting in the tea room, much like a manager watches on the sideline. As the registrar progresses with key competencies the surgeon trusts the trainee surgeon to operate independently and is not present in the hospital . The surgeon is responsible for the patient and is always available to attend via the phone. This is the apprenticeship based module that surgeons learn their craft and one I undertook like all surgeons in the world. So when we are trainee surgeons we do have a coach/manager and he/she is the surgeon in charge.
As fully fledged surgeons we don't have a performance coach or manager.
When we graduate and become fully qualified and board certified surgeons we are able to set up practice, work in hospitals as visiting specialists and have the ability to make decisions on our own that are life altering.
But we no longer have a manager/coach . Now leading up to surgery we can brainstorm plans with fellow surgeons, discuss concepts and techniques at meetings and conferences but there is no match day performance coach. If surgery didn't go 100 percent to plan we as surgeons self reflect and audit enables us to search for answers why. In fact I analyse every operation I do immediately after, take notes and look at where I can improve. Sure I may have taken the skin cancer out of the nose and reconstructed with a forehead flap or performed a complex re-shaping of the nose that looks great, but there are always aspects of surgery that you can improve, efficiency being one. Having a performance coach on the day of surgery will enable immediate feedback on performance, adjustment of performance, advice on surgical hurdles and overall a better experience for all involved. It also allows the ongoing on table training of the physical labour of surgery.
We all know that as doctors training learning never stops so why do we artificially stop having a Mentor when we operate on our own?
The answer is that the way most healthcare departments are set up makes it financially unattractive as a surgeon to be a manager or coach which is a sad state of affairs. I for one have had a senior surgeon assist me a couple of times and I have assisted another surgeon in his first face lift. I found myself learning as the senior surgeon as well as enabling the operating surgeon to perform the surgery independently with me giving guidelines, suggestions and reassurance only. The surgeon immediately after the operation said "I could not have done that operation without you and it was so stress free" , yet I didn't pick up the scalpel or scissors only the retracter. The benefits of having a senior surgeon operate with you are the following:
Re assurance
Stress free environment
Years of experience
Experience with certain aspects
Non threatening criticism
Encyclopedia of surgical technique knowledge
Immediate feedback
Instant Learning
So why don't surgeons get a manager or coach on game day?
Too hard? Surgeons cost too much to be paid as assistants? No surgeon wants to assist other surgeons?
I for one find that I have learned the most when I use to teach my registrars at the public hospital and when I teach and help other junior surgeons in surgery as it enables you one thing you can lose quickly when operating alone and that is perspective. Perspective enables better performance instantly. All surgeons have perspective after the event but only having a coach will enable instant improvement
Now it is not my job to come up with a way to make this happens as I am sure there are a lot of people in the medical community that blatantly disagree with this opinion but a great way to start would be retired surgeons or retiring surgeons to make themselves available as a match day coach to surgeons. This enables their mind to stay active and they can happily pass on the many years and countless procedure experience to surgical obstacles as they occur .
Now you may argue that as a surgeon you don't need a coach but I point out to what the great Andre Agassi said of Australia's next tennis champion Nick Kyrgios. Until he gets a coach he will likely not fulfil his enormous potential. I couldn't agree more, I think Nick Kyrgios will win a grand slam when he gets a coach!
Dr Jack Zoumaras is the Founder and Owner of Artiste Plastic Surgery
Disclaimer: At Artiste Plastic Surgery, our Plastic Surgeons led by Dr Jack Zoumaras have been trained to the highest possible degree. All surgery has risks and it is always advised to get a second opinion. Risks are very real and we cannot guarantee any result. Results are illustrated as a guide only. All risks are managed and any need for revision surgery or complications (1-5%) can be managed by our specialist plastic surgeons.
Any statements on how you will feel is based on Level V Evidence:
Level V:  How you will feel after plastic surgery varies between individuals, depending on psychological and physical factors. Our internal research is based on how patients in our practice feel after surgery.
The blogs are not a substitute for a medical consultation and do not form as part of the doctor to patient relationship.