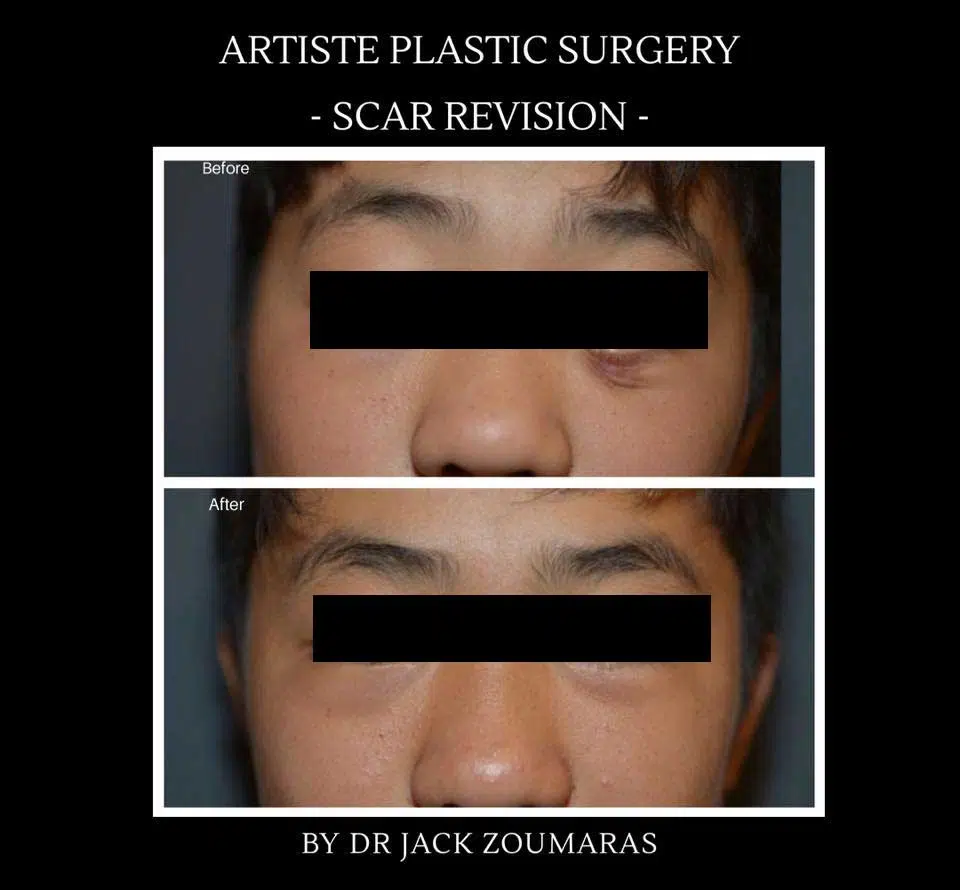 Each scar, whether from an injury, surgical procedure, or skin condition, tells a unique story of our body's incredible ability to heal. Typically, scars have no significant medical concerns. Yet, when faced with a prominent scar in a visible location, you might wonder how to address it. In this blog, Artiste Plastic Surgery explores the different types of scars and the appropriate treatments.
Different Types of Scars
Keloid Scars: These scars are characterised by their raised appearance, often extending beyond the boundaries of the original wound. They typically exhibit vibrant red or pink hues and can be more prominent than the initial injury.
Hypertrophic Scars: Hypertrophic scars are raised but generally confined within the boundaries of the initial wound. They can appear in shades of red, pink, or even darker colours.
Atrophic Scars: Atrophic scars, in contrast to raised scars, create depressions or sunken areas on the skin's surface. These scars often result from skin conditions like acne.
Contracture Scars: Contracture scars frequently occur as a result of burns, causing the skin to tighten and potentially restrict movement.
Acne Scars: Commonly observed in individuals with a history of acne, these scars present as pitted or depressed areas on the skin.
Surgical Scars: Surgical scars vary in appearance depending on the type of surgery but generally manifest as thin lines or marks. Over time, surgical scars tend to fade naturally.
Stretch Marks: Stretch marks, often arising from rapid weight gain or pregnancy, present as reddish or purplish lines on the skin.
What are the scar treatment options?
Topical Treatments: Topical creams and gels are effective for various scar types, including surgical scars, stretch marks, and acne scars. These products often contain ingredients like silicone, corticosteroids, or vitamin E, which help improve the appearance and texture of scars by promoting collagen production and hydration.
Laser Therapy: Laser treatments are versatile and can be used for a wide range of scars, including acne scars, surgical scars, and even stretch marks. Laser therapy stimulates collagen production and resurfaces the skin, reducing the visibility of scars and improving skin texture.
Dermabrasion and Microdermabrasion: Dermabrasion and microdermabrasion are beneficial for atrophic scars, including those resulting from acne. These treatments involve the removal of the top layer of skin, which helps in smoothing out depressions and improving the texture of the skin.
Injectable Treatments: Dermal fillers are ideal for atrophic scars, including those caused by acne. These fillers add volume to sunken areas, making the skin appear smoother. Corticosteroid injections, on the other hand, are useful for hypertrophic scars and keloid scars by reducing their size and appearance.
Pressure Dressings and Silicone Sheets: Pressure dressings and silicone sheets are most commonly used for hypertrophic and keloid scars. They work by applying pressure to the scar, which can help flatten it and reduce its prominence over time.
Scar Reconstructive Surgery: Surgical procedures, including scar revision and skin grafts, are typically used for hypertrophic and keloid scars, which are raised and extend beyond the original wound. Scar revision aims to modify the appearance of the scar, while skin grafts involve the removal of scar tissue and replacing it with healthy skin.
Scar Removal with Artiste Plastic Surgery, Sydney
Scars are a part of the healing process, but they don't have to define your appearance. If you want to improve the appearance of your scar, consulting with a healthcare professional is essential to determine the most suitable treatment for you.
At Artiste Plastic Surgery, we are committed to minimising scarring, especially for our cosmetic surgery procedures. Our Specialist Plastic Surgeon, Dr Jack Zoumaras can help assess your situation and help  tailor a scar management program to your specific concerns.  Book a consultation today.
Disclaimer: At Artiste Plastic Surgery, our Plastic Surgeons led by Dr Jack Zoumaras have been trained to the highest possible degree. All surgery has risks and it is always advised to get a second opinion. Risks are very real and we cannot guarantee any result. Results are illustrated as a guide only. All risks are managed and any need for revision surgery or complications (1-5%) can be managed by our specialist plastic surgeons.
Any statements on how you will feel is based on Level V Evidence:
Level V: How you will feel after plastic surgery varies between individuals, depending on psychological and physical factors. Our internal research is based on how patients in our practice feel after surgery.
The blogs are not a substitute for a medical consultation and do not form as part of the doctor to patient relationship.