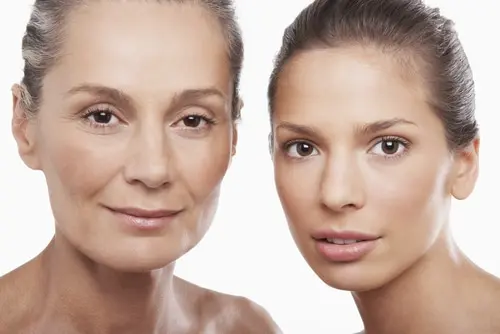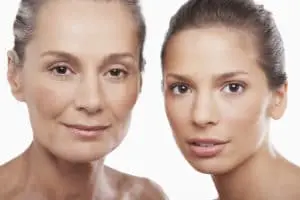 For virtually all women, it's only a matter of time before wrinkles, freckles, sun spots, and discoloration make their debut on the face. The inevitable signs of ageing can become apparent as early as age 23 or as late as the early 50s for a lucky few. While there is no standard age or "tipping point" at which aging becomes apparent, there are a few factors that reveal why some women age faster than others.
Genetics
Not surprisingly, genetics play a significant role in how quickly a person ages. Skin thickness, vascularity, and melanin production are all influenced by a person's ethnicity and will determine how quickly wrinkles and damage appear. Fair skin, in general, is more susceptible to age-revealing sun damage, while darker skin is more prone to hyperpigmentation and a dry, ashy appearance. Dry skin, which is more common in thicker, darker skin types, can also reveal wrinkles more readily. To help combat your genetic predisposition, be sure to regularly apply a sunscreen with a minimum SPF of 30 and moisturize your skin daily with a quality moisturiser.
Environment
Many environmental factors can either interrupt or damage natural cell repair, which is reflected in our skin. Metallic chemicals, ultraviolet light, and chronic inflammation or infection can all interrupt the body's natural processes and reveal your true—or much older—age. Many pollutants are so widespread that it is nearly impossible to avoid them, but you can reduce your exposure to some sources by following these tips:
Eat organic to limit exposure to pesticides

Use eco-friendly cleaning products instead of harsh chemicals

Reduce your plastic exposure by using glass water bottles and food storage containers

Use environmentally friendly cosmetics and products

Minimize exposure to fabric-protectant chemicals and fire retardant by purchasing wood, metal, and untreated, natural furniture
Lifestyle
While you cannot control your genetic predisposition and you have limited control of your exposure to pollutants, you can completely change certain lifestyle habits that affect how quickly you age. Tanning, smoking, poor diet, and inadequate sleep are just a few habits that wreak havoc on the skin.
Tanning
Sunbathing or regularly visiting a tanning bed will undoubtedly give you leathery, wrinkled skin in the future, especially if you have fair skin. Age spots, freckles, and even skin cancer are also caused by overexposure to this harmful ultraviolet light.
Smoking
Smoking pumps toxins directly into your body and reduces the amount of oxygen that is delivered to the skin. Studies show that just hours after your last cigarette, your body begins to heal itself from the damage, and your skin will actually appear healthier soon after you quit.
Diet
A diet rich in vitamins and lean proteins will provide the skin with the essential nutrients for cell renewal. A poor diet filled with preservatives and high in sugar will have the opposite effect, leading to free radicals that damage the skin. While these poor habits can lead to excess weight, excess weight in itself can actually make a person appear younger with the added fullness in the face.  
Sleep
The body completely repairs itself during sleep as it gets rid of dead blood cells and regenerates the skin. Without enough sleep, moisture and pH levels in the skin decrease, causing an imbalance in the skin that leads to dryness, redness, and dullness that make wrinkles more apparent. Dark circles beneath the eyes also result from lack of sleep as the blood vessels dilate and cause the unsightly shadow. Aim for seven to eight hours of sleep to become fully rested and wake up with a healthy glow.
If your face has already begun to show signs of aging, Dr Zoumaras offers various treatments that can meet your needs. Fine lines, wrinkles, large pores, and sun damage can be treated with skin tightening, chemical peels, or dermabrasion depending on your desired outcome and your skin type. Dermal fillers and anti wrinkle injections also reduce facial wrinkles and can minimise acne scars.
If you are interested in any of these anti-aging treatments, please schedule your consultation by calling (02) 9327 1700 or by filling out our online contact form today.
Disclaimer: At Artiste Plastic Surgery, our Plastic Surgeons led by Dr Jack Zoumaras have been trained to the highest possible degree. All surgery has risks and it is always advised to get a second opinion. Risks are very real and we cannot guarantee any result. Results are illustrated as a guide only. All risks are managed and any need for revision surgery or complications (1-5%) can be managed by our specialist plastic surgeons.
Any statements on how you will feel is based on Level V Evidence:
Level V:  How you will feel after plastic surgery varies between individuals, depending on psychological and physical factors. Our internal research is based on how patients in our practice feel after surgery.
The blogs are not a substitute for a medical consultation and do not form as part of the doctor to patient relationship.