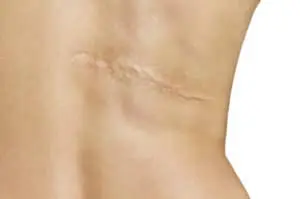 Scars result from incidences we usually don't want to remember, such as injury, surgery, acne, or other blemishes. They are often inconsistent in colour and texture compared to the surrounding skin and can be visually distracting and uncomfortable. Scar revision techniques may not completely erase a scar, but they can optimise its appearance by improving the scar's pigmentation, thickness, and size.
Surface Treatments for Acne or Blemish Scars
Acne scars or blemish scars often appear as tiny marks in the skin. They are usually small in diameter but deep enough to be noticeable. Several different surface treatments can provide complete scar removal or significant improvement to these small scars. A deep chemical peel can slough away the outer layers of skin, as can dermabrasion. Laser treatments can also provide significant improvement by removing the damaged skin and encouraging new cell growth. More than one treatment may be needed with all three of these options depending on the size of the scar and how well the scar responds to the initial treatment. With these surface treatments, scars will be minimised along with wrinkles and other imperfections, and the overall quality of the skin will improve.
Injectable fillers are another option to reduce the appearance of acne scars. Results with this option are temporary (lasting three to six months), so consistent treatment is necessary for maintenance.
Laser Therapy for Hypertrophic Scars and Keloids
Hypertrophic scars are thick, raised scars caused by excessive deposits of collagen. They often result from pimples, body piercings, cuts, and burns and may remain itchy or painful for several weeks after the injury. Hypertrophic scars will fade significantly on their own after several months. Keloid scars are similar to hypertrophic scars except that they expand outside the original wound borders and do not regress on their own.
Silicone gel sheets and laser therapy are two of the best options to improve the appearance of hypertrophic and keloid scars. Silicone gel sheets restore the skin to a more natural color and texture. They work by hydrating the scar tissue, which softens the scar and stops it from developing further. Laser therapy can also significantly reduce the appearance of scars by removing the surface layers of scar tissue. More than one laser treatment may be necessary to attain the best results.
Layered Closure for Deep Scars or High-Movement Areas
Layered closure is a technique used when excision of the scar tissue extends deep below the surface of the skin or in areas of the body that have a high degree of movement. The deepest layer is closed with sutures, and the layers of closure continue until they reach the surface. Incision techniques include the "Z-plasty" or "W-plasty," with the incisions mirroring those letters in order to reposition the scar or improve its flexibility.
Timing of Scar Revision
Since many scars will fade to a certain degree on their own, many patients are advised to wait to consider options for scar revision about six to 12 months after the initial wound occurs. However, if no improvement to the scar is seen at all three months after the injury, patients may consider accelerating the process.
Dr Zoumaras practices some of the most advanced techniques for scar revision and can help determine the technique that will provide the best degree of improvement during your initial consultation.
To schedule your appointment, please call (02) 9327 1700 or fill out our online contact form today.
Disclaimer: At Artiste Plastic Surgery, our Plastic Surgeons led by Dr Jack Zoumaras have been trained to the highest possible degree. All surgery has risks and it is always advised to get a second opinion. Risks are very real and we cannot guarantee any result. Results are illustrated as a guide only. All risks are managed and any need for revision surgery or complications (1-5%) can be managed by our specialist plastic surgeons.
Any statements on how you will feel is based on Level V Evidence:
Level V:  How you will feel after plastic surgery varies between individuals, depending on psychological and physical factors. Our internal research is based on how patients in our practice feel after surgery.
The blogs are not a substitute for a medical consultation and do not form as part of the doctor to patient relationship.